Oldfolks – aka – John asked me about making a table saw sled for his new saw and if I could do a tutorial on how to make a sled like the one I have. Unfortunately, I'm not quite physically able for such a big project yet. However, I told him that I would show him how to make a great box using his miter gauge and just some scraps from his shop. So this blog is for John and I hope it will help him learn to make boxes and will help others to see that you do not need all those fancy gadgets that look so pretty in the magazines. The fancy things can certainly make your task easier – however, if you take your time and do a good job setting up your tools you can make great things, not just boxes, with the simplest tools.
This is one way but certainly not the only way to complete this process – so here we go.
John wants to be able to use his miter gauge as a "sled" to push materials through his blade.
As you can see one of the problems with a miter gauge that comes standard with most saws is that it is small – it has a relatively narrow face and the height is lacking. Mine gauge is less than 2" high.
The gauge's lack of "face" material necessitates making a larger face to back up your material. However, adding the extra face/fence is made difficult because of the location of the screw holes that you would use to attach the fence.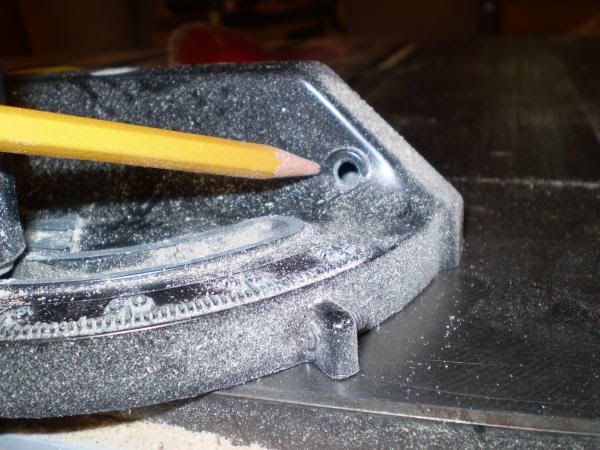 All these things are easily overcome. I'll get to that in a future entry. But for now I want to just do a little bit to show that you don't need expensive set up tools to get the job done.
First off is the lowly big box store combination square. You can pick up a cheap combo square for about $8 or so. They are not always the best for precision work because they are notoriously "unsquare." However, that does not mean that cheap is not workable or usable. So lets look at just one I have in my drawer. I have a gazillion of these things so I picked one at random.
The check your square—that is to see if it's square—- place a piece of paper at the edge of the bench or the saw and draw a line.
Then flip the square over and draw another line.
If the square is square—- you should have one line – one on top of the other.
My cheapo square that has been sitting in my drawer having stuff thrown on top of it and being abused in general is pretty much dead on square. I then used my good Incra square to compare it to the cheap square.
It looks pretty good.
In my opinion the problem with these cheap squares is the mechanism used to hold the blade in the head of the square. if the little screw/spring system does not hold the blade tight – just give it up as a bad job.
As an aside, there is no shame going to a box store or Woodcraft or Rockler with a pencil and a piece of paper and testing a square before your buy it. I have done just that several times. It's infinitely better to test something like this at the store rather than buying it, getting it home and finding out it's no good. It's one of the few things you can test before buying.
The way I see it though, the strength of most of these cheapo squares is the head. As you can see here – the 45 and 90 of the cheapo compares well with my more expensive Incra square. It's not perfect, but pretty close. You can see a tiny gap, but close.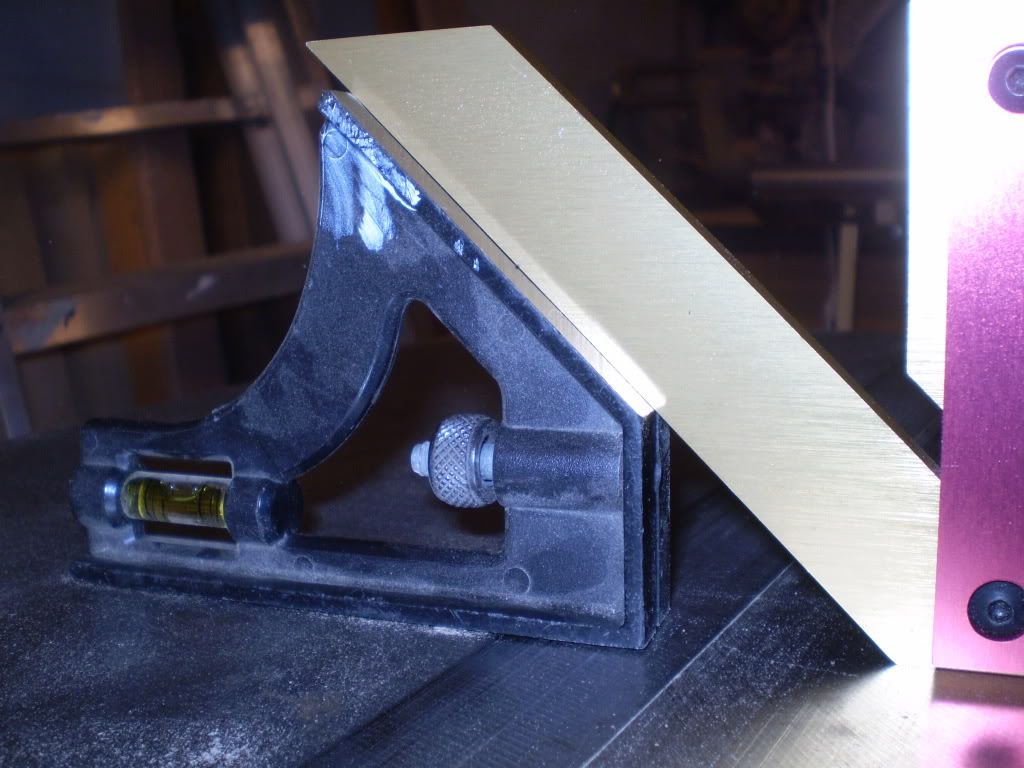 These cheap heads can be used to accurately set up your table saw blade. Here I have moved my blade out of square.
I can then adjust my blade to 45 using my cheap square head.
As you can see, using my Wixie gauge that the cheap square head came pretty darn close to exactly 45 degrees.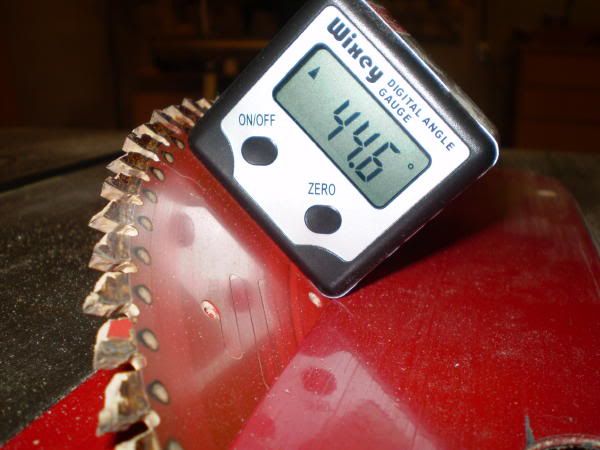 I grabbed a pieces of scrap ply and ran it through the blade using my miter gauge.
Flipping the two pieces up on edge and making a corner – you can see this set up did a good job.
The corner looks very good with my Incra square.
If you do not have anything to gauge the 45 with – say other than the gauge on the saw itself. Take heart—- just set it to 45 per the saw's gauge and make some test cuts. When you get a good corner, you are probably good to go. I'd probably cut 4 corners out of scrap to test my setting before cutting into my project piece. So you can set your saw without a square – the square just makes it easier. I'll try to demonstrate this another time. It's perfectly doable.
That's it for tonight. Next will be making the fence/face for the miter gauge and getting it ready for making accurate cuts.
As always your comments, suggestions or questions are always welcome.
-- "Our past judges our present." JFK - 1962; American Heritage Magazine
---