OK so now I know I'm really on the mend. I'm planning, planning and planning some more!
First thing I know I need to do since most of any major projects for a while will be hand tool stuff (with the exceptions of those trivets I want to try on the router table), I decided that I need to make sure my tools are sharp, clean and ready to work.
With all that in mind – I've collected my sharpening things, my chisels and educational materials to prep myself to actually work wood.
So here is my "sharpening station" with some of the things I use. I've got the water bin in the back, the diamond lapping plate to flatten the faces of my water stones, my three stones (1,000; 4,000 and 8,000) along with the naguna (? spelling) stone and my jewlers rouse for my leather strop. And, course, some guides to use.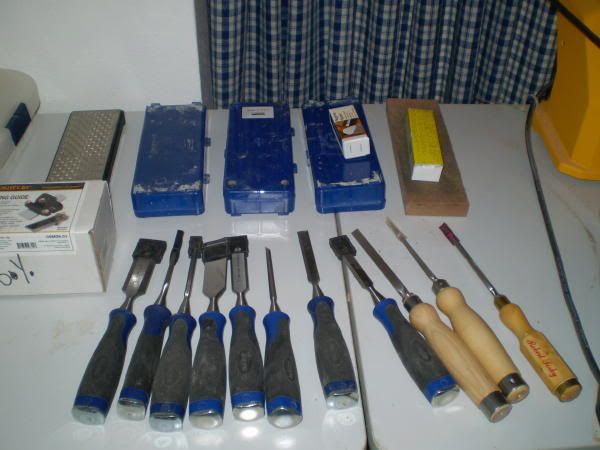 As for educational materials—- these should give me a good refresher course. I've actually read/watched them all before, but since I have not used any of it for a while – thought I'd peruse all of it again.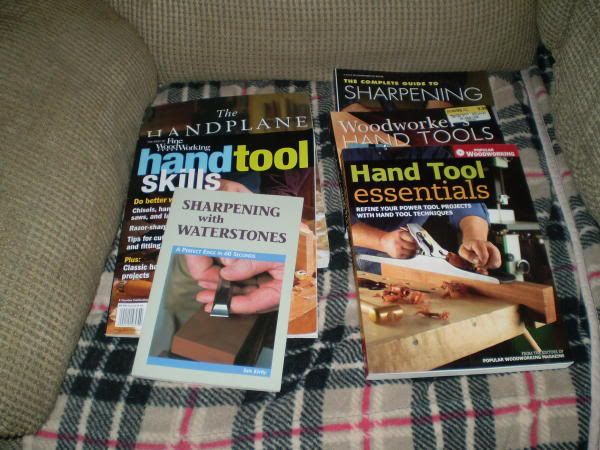 Of course, what would a little educational perusing be without a glass of refreshment (complete with straw since I can't bend my neck enough to drink like a real person) and the requisite NFL in the background.
Then there's still Lucy—- looking forlorne and lonely—- not really – she's being camera shy
So off I go.
-- "Our past judges our present." JFK - 1962; American Heritage Magazine
---