So tonight I used my 20 minutes of shop time getting the small cuts made.
One thing I failed to mention in my first entry was in mounting the blade. Some of the blades are hard to tell which way is up and down. If you run your fingers up and down the blade—- your fingers will snag on the teeth – use that as a clue. The teeth go down.
Another thing to keep in mind – is having a good light. I've got a lamp set up by my saw, but it's not the best set up. I'd prefer to have one of those overarm lamps that you can move up and down. But I'm not really set up for this type of thing right now.
When you start cutting out your pattern you want to start small. In other words – cut out the smallest details first. You do this because, let's say, that the first thing you do is cutout the background and then move to the details – you have that much less to hold onto while moving the piece around under the saw. For a project like I have here it's not that big of a deal. However, if you are doing a fret project where there is a lot of small detail—- you'll be glad you started small and moved up.
You'll also notice as you look at the picture below—- the area around the neck for sure. When I cut out the outline you will see there is going to be very little left when the cut is finished. That's going to be a delicate thing. If I were to cut the outside first and then the inside cut – I'd have a potential for breaking that. That seems counterintuitive. But think of it this way. Say you are cutting the inside cut and you overcut past the line. When you then do the outline you can fudge a bit and cut outside the line making the leftover the same size as if you had cut both cuts correctly. I hope that makes sense.
This is all I've gotten cut out today.
The next thing I'll do is to use small sandpaper pieces and/or some small files to clean up the small cuts. I do this now before I do the big cut for the same reason as above. I have more to hold onto right now.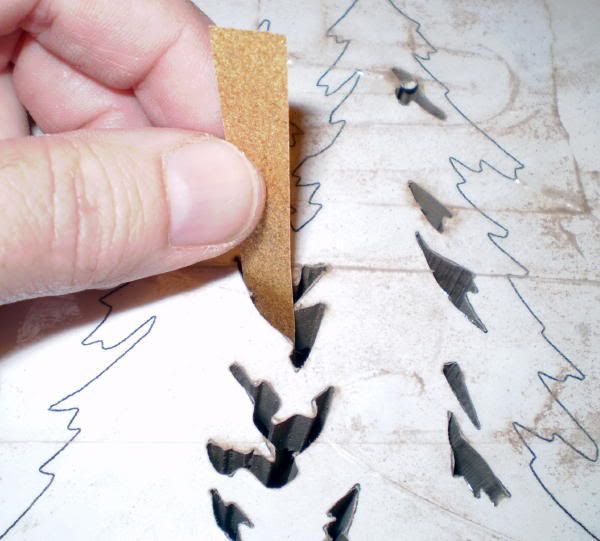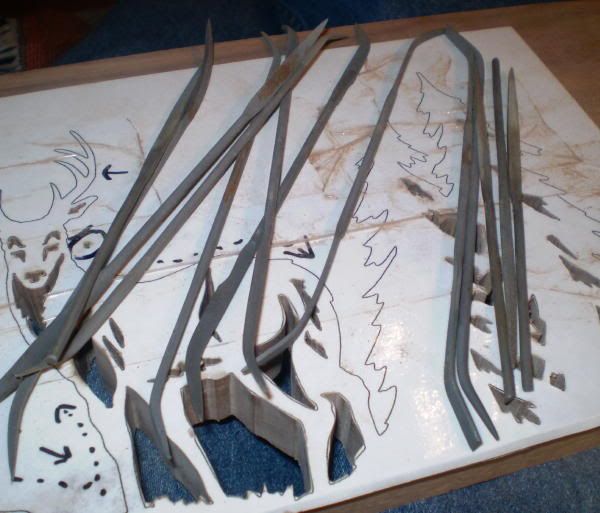 My demented dog Lucy—- says to say Hi!
-- "Our past judges our present." JFK - 1962; American Heritage Magazine
---