So now I start working on my first recovery project. As you know, I selected a project that does not have a lot of cuts. I figure this will help me ease back into making sawdust.
Scroll saw work requires the same eye to detail as other forms of woodworking.
First is material preparation. As you can see from this picture, I'm using 3/4" stock, but this stock has some planner marks. Some would argue with me on this point, but even though you are going to be cutting away a lot of this material you still want to get rid of the marks before you start. With scroll saw work this is even more important because once you cut out the project, you have lots less material to sand—- and often delicate parts that would break if you had to sand too much.
Generally, I would clean up the material with a hand plane. But because I'm not supposed to be doing much pushing and pulling, I'm going to use some 220 grit paper to clean up the walnut.
After cleaning it up, just like preparing for finishing, you want to get rid of any dust. This is important because any dust will keep the spray adhesive from sticking. I use mineral spirits to clean up the wood. The spirits also will show up any large scratches, etc.
The piece has a large scratch—but it is outside the pattern so it's not a problem for this project.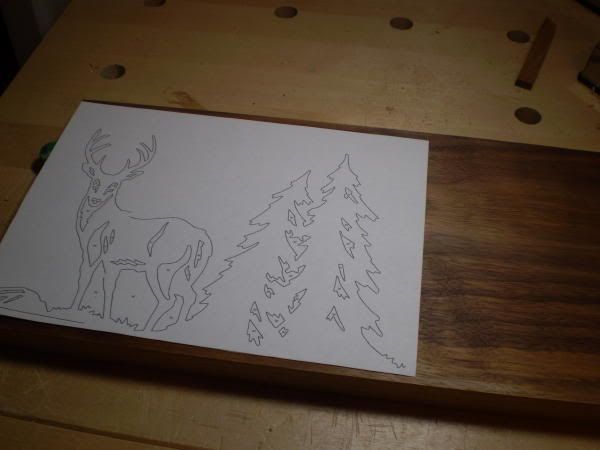 Next is the set up of the saw itself. You want to saw straight lines, just like any saw. Set the table square to the blade. A small square is perfect for this.
Tensioning the small blade is very important. I test my tension by making some test cuts. I simply draw a bunch of straight lines on a scrap piece.
Then just start sawing, adjusting my tension as I go. When it's straight – I'm good to go. (I usually start on some pine to practice a bit, then will do a test cut in my project wood.)
I use 3M spray adhesive to attach the pattern to my work piece. It's best that with spray adhesive to either spread out some newspapers or spray in a box. I use a deep box, this way the spray can is held down deep in the box and any overspray is contained.
I do not use a heavy hand on the spray glue—- there's no sense to.
After I apply the pattern to my work piece; I use a sharpie to mark my starter holes so they are easier to see when I'm drilling. You can see that I also marked on this pattern two arrows that show the delicate parts that I will cut out last (solid arrows). Then I also marked out (with dashed lines) where I would start the cut and the direction I'll follow.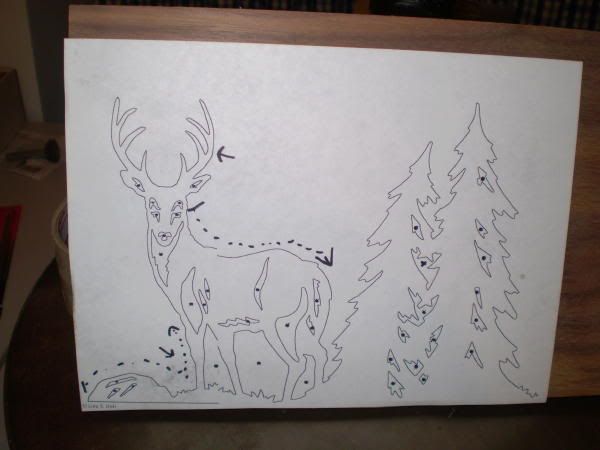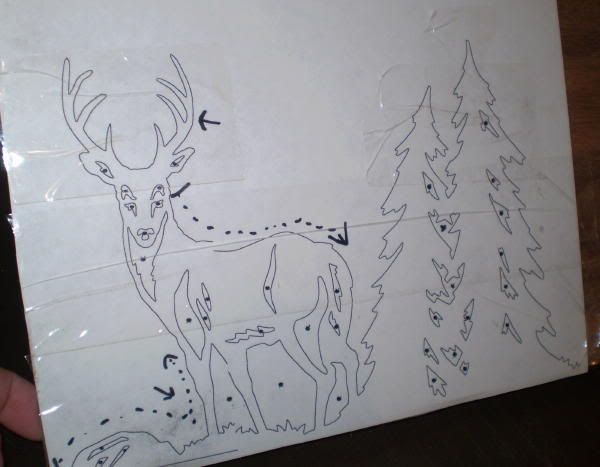 You'll notice that I plan to start under the delicate parts on the right side and move down the body and up and around the trees. Then I plan to make another entry cut along the rocks on the bottom left and move up around the horns and blend into the first cut. I do this for several reasons. One is that I'm a bit clumsy so that I have a tendency to break off those delicate parts so I try to keep those attached to as much material for as long as I can. Secondly, the delicate parts are harder to cut and takes more time.
After I do my markings, I then cover the pattern with clear packing tape.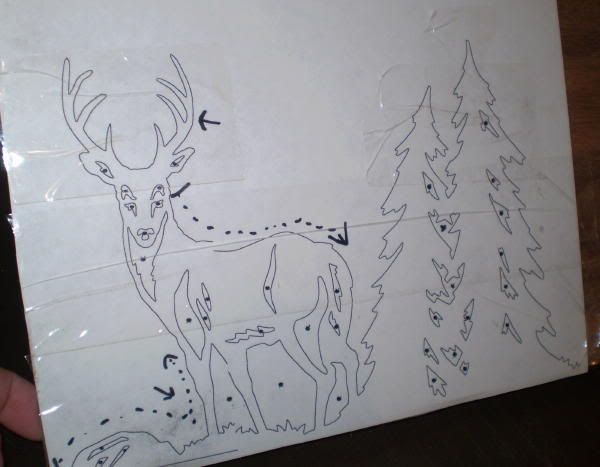 The reason for the tape is that the heat from the saw motion melts the adhesive in the tape creating a lubricant which makes the blade run smoother and giving you a better cut. If the blade cuts smoother, the blade will also last longer.
Next is on to actually drilling out the pilot holes. I use my Dremel set up in a drill press.
After drilling you can really see the tape on the project.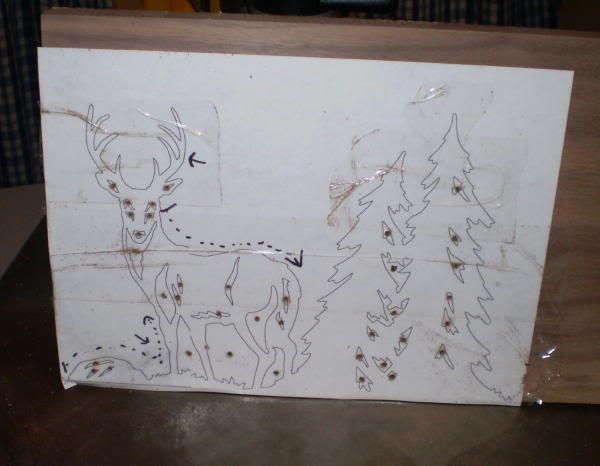 Well I've used up my 20 minutes of shop time for today. Tomorrow, I'll get to do some actual cutting!!!!!
-- "Our past judges our present." JFK - 1962; American Heritage Magazine
---