Heading into the home stretch. I redrew some of my table to point out some things I was learning. However, I left off on my hall table with a few problems (OK – more than a few) that I'm working on fixing. Specifically, I need to redraw my back apron because somewhere along the line I erased the back edge and did not make it a component. Because I did not make it a component, when I drew in my drawer runners – the runners broke the face of the apron. Secondly, I redrew my drawer runners because I did not like the way they looked or how I had them placed. I'm sure there is an easier way to fix it rather than taking out the rest and starting over, but that's what I chose to do.
This is the "now shot" showing the back apron missing and without the runners.
Somewhere along this long story, I made the top a "group." Because it's a group, I can hide it which makes it easier to work on the lower sections of the table. Select the group and right click to find the hide. Unhiding takes a few additional steps which I'll show later in this blog.
The next shot just shows the table in it's present form without the top.
The next two shots just show a close up of the back leg where I need to reinsert the apron. Guidelines have been drawn in and I started working on putting in some text. I still have not found how to insert the little arrows to point to things.
Next just shows the x-ray function. This is a great way to see through your geometry so you can add things or decide what you want to change.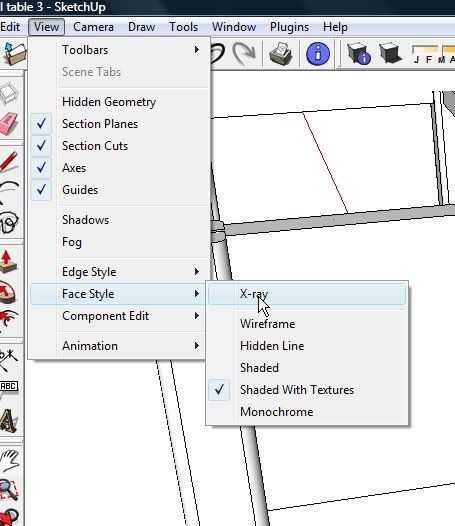 This shot shows that I've drawn in my rectangle for the tenon and have set it up to push/pull it to the 1/2" I need.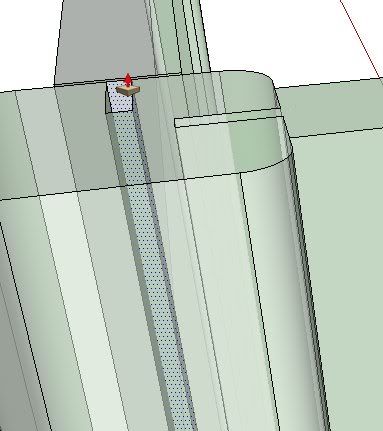 Now you can see one of my problems. My tenon does not connect to my apron.
Now I've gone to "un-hide" my top. You have to use the "outliner" tool to bring back the top. The outliner is found on the menu bar under "window." My "group" that I want to un-hide is under the listing "top." You double click that file then right click to bring up the context menu to find the un-hide selection. Outliner is also where you will find all the components listed as well.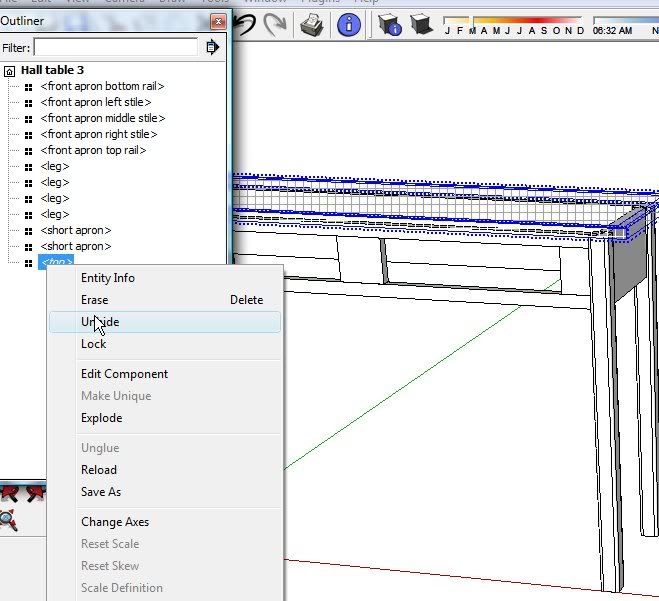 Next is where I am putting in a runner. It's a simple rectangle that is pushed/pulled to the other end.
So this is where I've left off.
Next, I want to put in the dado for the apron buttons and make/insert the buttons to attach the top. Then, of course, is finishing the drawers and inserting them in. So still lots to do.
As always, comments and suggestions/help are always appreciated.
-- "Our past judges our present." JFK - 1962; American Heritage Magazine
---