I know you have all probably have had enough of this blasted table by now, but the repetition is helping me learn.
I'm trying to blog about a few of the smaller things that I've picked up that I did not know before and that others may not have known. Some who are more computer savvy—- please look away and or forgive me!
The first shot just shows that I've drawn out guidelines for the footprint of my table, my first leg which has the mortises cut in. Pretty basic – but until just a short while ago I struggled with. I made the leg a component.
The second shot shows that I have copied and moved my leg. The shot shows that both legs are "blue" which means they are both "selected". Until just recently I did not know that if you select the first object then hold down the Shift key and click the next object that both would be "selected." (I believe there is a way to do so by clicking and holding down the mouse key – but I can't seem to get that to work.)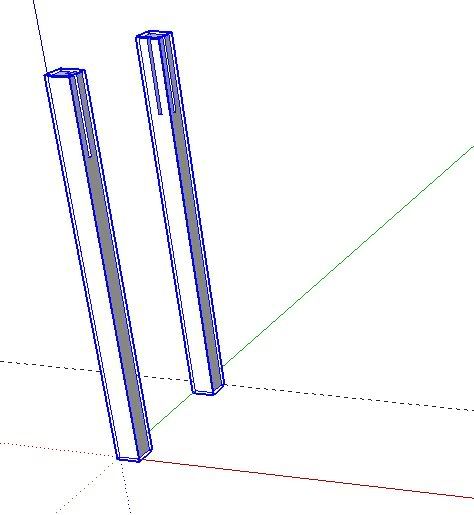 The third shot shows that I've copied and moved my two leg set to the other end of the footprint and both are still "selected."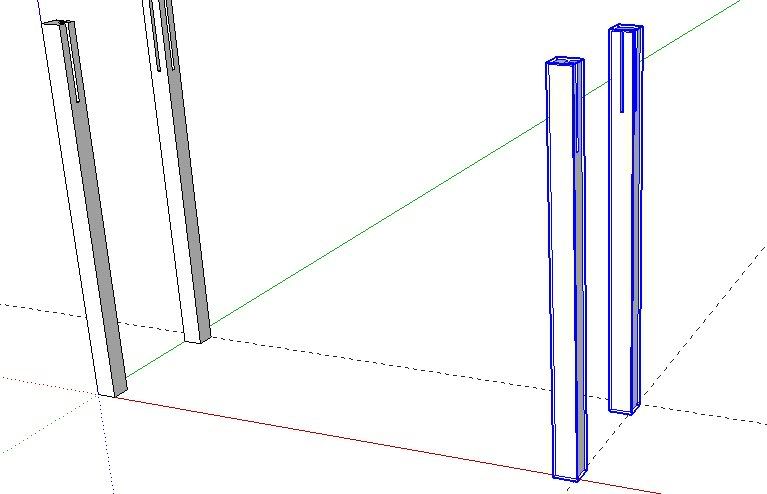 The fourth shot shows that I have picked the scale tool and will be scaling/mirroring both legs at once. I could not get my print screen program to work while holding the Control key down—- but to scale across the center point of the object you have to hold down the Control key while you are pushing the object through.
The fifth and last shot simply shows that my legs are now correctly positioned with the mortises in their proper order.
The program is certainly getting easier to use and understand. The devil is certainly in the details.
-- "Our past judges our present." JFK - 1962; American Heritage Magazine
---