OK – so its redo time now I'm just playing a little trying to figure things out.
First off this picture is kind of messed up—not sure why my dimensions did not show correctly. But here it is.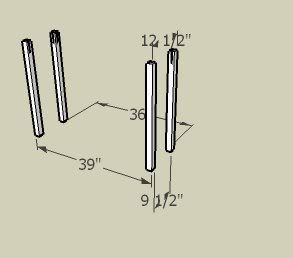 I managed to get my legs spaced correctly at 39" front/back outside to outside and 36" front/back inside to inside measurements; and 12.5 side to side outside and 9.5" inside to inside measurements. The legs measure 28" tall. The mortises are 1/2" deep and centered on the legs. And surprise surprise, I think I've managed to get all four legs on the same plane.
Here's an up close of the mortises.
With all the great help I'm getting from Dave and David (aka Brad-Nailor – by the way—- what's the deal with the name?)—- I am probably (actually almost certainly) missing some of the small points of the instructions. Long and short though some of this stuff is sinking in.
Question – I made my first two legs and made each a separate component (left front leg and left rear leg). Then I copied each one and moved it across – then selected and right clicked to "make unique." Does that make each right leg their own component? The reason I ask is that when you select "make unique" it does not give you the option to give it a new name.
Question Now that I have all four legs made should I make them a group? If so, how?
I'll have to outline my steps making this far in a different blog entry.
I guess the next logical question is I need to make my side and front aprons and insert them into the legs. I am sure I need to make the short aprons (2), back apron and front apron separate components. Once I draw them, how do I insert or move them into the mortises?
OK – that's all I can do for now. I sure hope that my floundering around the program is helping some of my fellow LJs.
By the way—not only do I appreciate all the Sketchup help I'm getting, I really appreciate all the good wishes coming my way while I recover from surgery. All are encouraging.
-- "Our past judges our present." JFK - 1962; American Heritage Magazine
---