I really appreciate Brad and others (some PM's) that have responded to my blog. That's what I want – all the responses help me by either encouraging me to keep going or adding to the blog with other thoughts. That's what I want and I appreciate everyone's input.
Thanks to Brad Nailor I learned how to insert a picture of the table I am blogging about.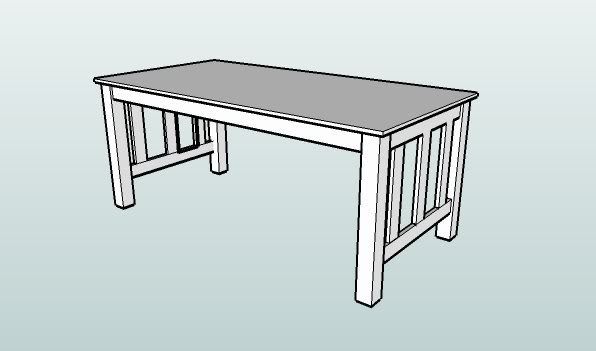 It's a crude project—- but it's a start and I've learned a lot doing it. Hopefully as I move along on the blog you can learn how to do it also and I'll reinforce what I learned to! There is a lot that's not right with it, but just like woodworking where you start with butt joints——this is the butt joint of SU. We'll all get better as we move along.
I left off with have a table top that is 36×72 x 3/4. A table is not really a functional table without legs. So legs are the goal tonight. Remember that I'm taking baby steps nothing fancy is going to happen tonight. Basics, basics, basics and redundancy – that to me makes everything stick in my little mind.
If you are following along and making a table with me – you should open your saved project. This is what you should have.
Guides are basically marks, or temporary lines that help you place other objects in your project. They replace your little tick marks that you make with your square and pencil. You make guide marks with the tape measure tool. This tool does several things – but right now we are focusing only on it's guide-making ability.
Click on the tape measure and move your cursor onto the short edge of the top (the one closest to you). When you see the inference dot turn red it should say "edge". Because your top has depth you can actually place your cursor on the top edge and the bottom edge. Since we are placing legs we want to place the cursor on the bottom edge.
This can be confusing because you have to remember that we are looking at the bottom of the table. So you want the cursor's inference dot to be on the top of the bottom. Got that—I know it can all be confusing.
OK – so now you have your cursor on the top edge of the bottom – left click once – and let go. Move your mouse about 1" or so away from the edge and click again. You should now have a dotted line crossing the short edge of the top.
Notice the VCB (value control box) in the bottom right corner of your screen. The box should say "length" type in "1" and hit enter. This moves your guide 1" from the short edge of the bottom of your top.
Now move your cursor/tape measure tool to one long edge and do the same exercise. You'll notice that your two guides cross at the corner – giving you a guide/location where to place your leg.
Next do the other short edge. You'll notice that when you place the guide it looks like it is not the same as the other short edge. This is because of the way you are looking at it.
When you do the second long edge you'll notice that it's hard to get the red dot to show up—this is again because of the position the top is in. This is a good time to use your mouse and move the top around so that you can see that second long edge better.
So we need to "orbit" to move the edge so we can see it better and get that red dot to show up. Place your cursor over the edge and click and hold down the mouse's scroll wheel. Your orbit tool should appear.
One tidbit here – it does not matter what tool/icon you have on the screen – when you press down and hold the scroll wheel it will always change to the orbit tool.
Now move your mouse around until you can see that second long edge better. Then release your scroll wheel. You should now be able to get that red inference dot to show up. Go ahead and draw your fourth guide line and enter 1" for the distance.
You should now have this on your screen.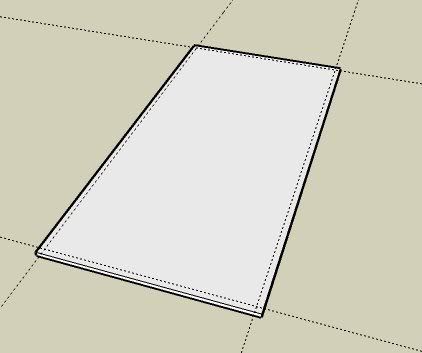 Next is to actually place a leg. But that's the next section of the blog. My little hand is getting tired so I need to take a break.
As always your input is welcomed.
-- "Our past judges our present." JFK - 1962; American Heritage Magazine
---