So I've been sitting here thinking and thinking and thinking about woodworking. An amazing hobby to be sure and certainly a great way to make a living if you so chose. But honestly, it's the pits as far as a hobby when you find yourself sidelined and unable to use your tools. They just sit there mocking you, calling your name, making noise to get your attention and yet to no avail. You can't use them. Well at least I can't – not just now. Come this Fall though, watch out——- there won't be a bit of wood safe from my reach.
Until then though – what to do, what to do. Can't let those tools sit idle—after all you must protect your tools from rust and the best way to do that would be to use them. So I've come up with some ways to use my favorite plane.
So the first——pretty easy—a paperweight for all those bills that you keep around for no particular reason after they've been paid.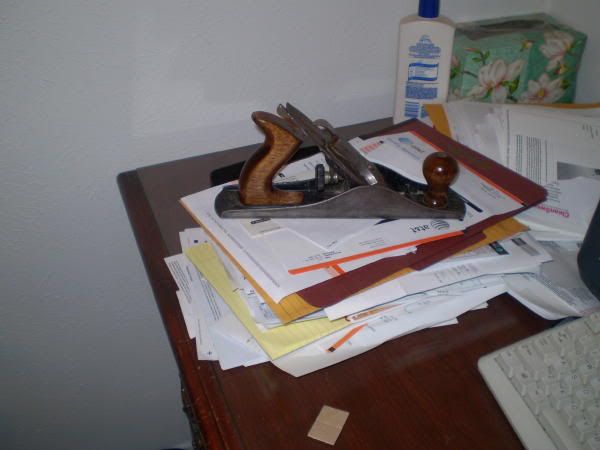 And who needs a pretty cloth covered brick when you have a plane for a doorstop.
Of course, who can't relate to trying to keep a book open on the table while you use it as a reference. Hence – the book keeper opener.
Then, naturally, there's the purely decorative uses.
ohhhh – here's a woodworking application——- a sandpaper cutter!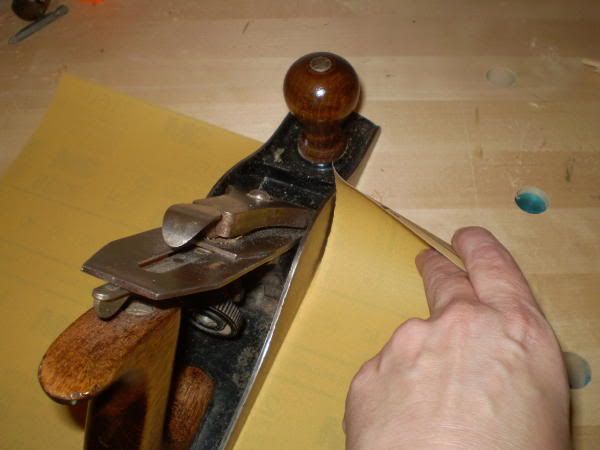 One of my best ways to use this plane is as a prop to keep the lid of my jigsaw puzzle upright while I spend countless hours trying to figure out the latest jigsaw puzzle.
Then, last, but most certainly not least, use it to keep the other tools you aren't using company on the shelf.
Yep fellow LJ's I'm feeling a bit sorry for myself. Trying to stay upbeat while I wait for my surgery and the healing time to take place. It's going to be a long summer.
So what other alternative uses for this plane can you come up with? Entertain me!
-- "Our past judges our present." JFK - 1962; American Heritage Magazine
---