In my continuing effort to show that woodworking can be simple and easy I present my next "tip."
I appreciate your looking/reading and your comments/input.
The butt joint is probably one of the most degraded and misunderstood joint in woodworking, yet it is the easiest to make. It can also be a very strong joint if done properly and used in the right application.
A butt joint generally is one board's edge placed against another's face.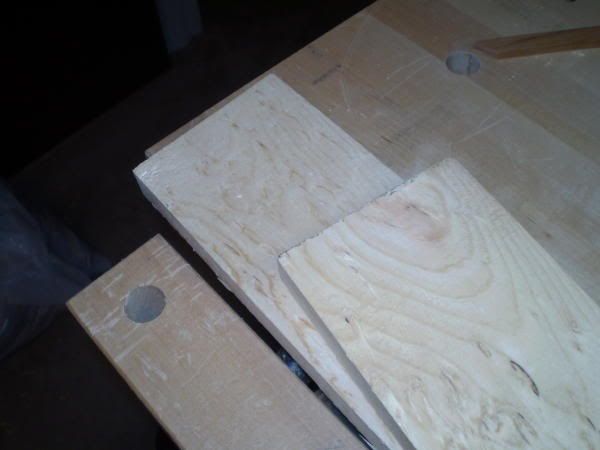 A butt joint needs a mechanical fastener, such as a nail or screw (generally in conjunction with glue) to work.
One thing that I always found when I taught beginning woodworking was that people made deciding how to decide how to determine where to insert the fasteners for the joint an adventure. It was surprising how many people take the long road when the short lane was the easiest to take. They measure on the front side where the board is, then they flip the board over and mark that measurement on the outside then add the thickness to know where to drill a pilot hole. This creates a lot of room for error and frustration.
The easiest way to determine where to put your fasteners is to do all the marking from the inside.
Make sure your board/shelf if square to the face board.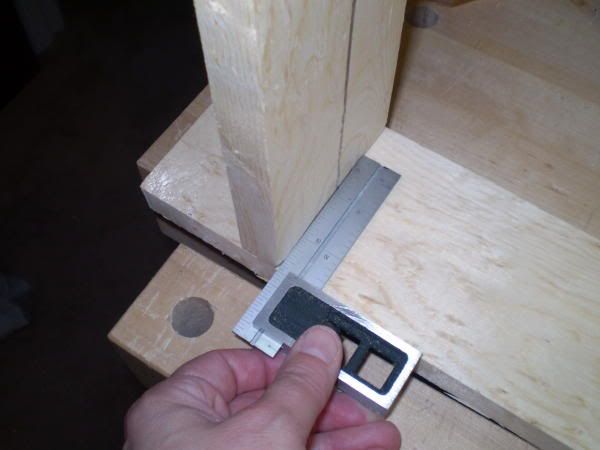 Then mark both sides of the board's outline.
you can then mark the location where you want the fasteners to be placed.
You can then drill the holes from the inside. Make sure you use a backer board to keep from having some splitting on the outside/face of your board.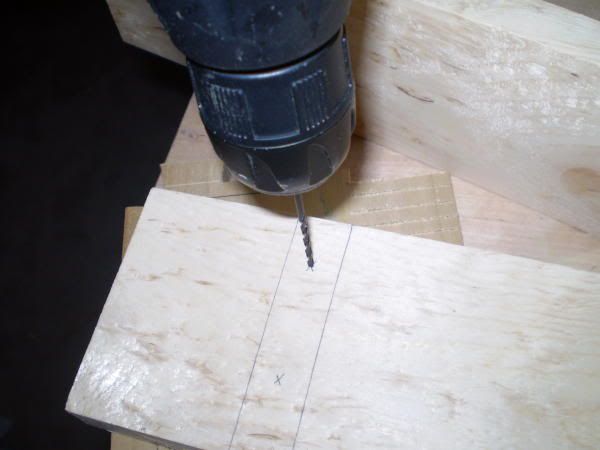 If I am going to use nails to fasten my boards – I like to use a nail spinner. The spinner, with the appropriate nail inserted, essentially drills the nail into your board. Generally using the spinner makes it so that you do not have to drill a pilot hole for the nail.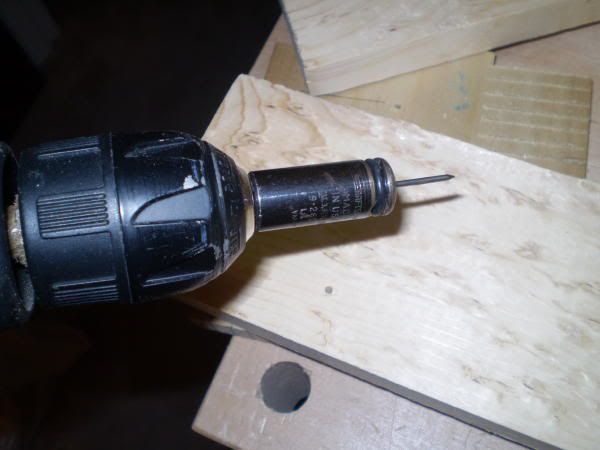 The spinner can be purchased from Lee Valley. I've never seen one at the box stores, but then I've not looked recently for one becuase I only need one!
If you are going to use screws to fasten your board you MUST drill a pilot hole or you risk splitting your wood. There are bits that countersink and drill the pilot hole at the same time.
The butt joint is definitely a good joint if done properly. This shelf was done with all butt joints and nails.
Some day soon (yeah right) I might put a finish on it.
Other alternatives for fasteners besides nails and screws are dowels and biscuits. I'm not set up to show those though.
Butt joints can be made stronger by using shallow dado's to fit then in or using a cleat to sit them on. I would not consider using a butt joint with only glue—- it always should have a mechanical fastener of some sort. This joint, used in the right application is a very versatile joint to use. It should not be overlooked or frowned upon. It can hold a good amount of weight depending on the thickness/length of the board.
So that's my tip for the day. I hope it's not been to simplistic and that it helps someone along their woodworking journey.
I appreciate all your encouragement!
-- "Our past judges our present." JFK - 1962; American Heritage Magazine
---