OK – this is probably going to be very simplistic at best for most, if not all, of you. But I'm really trying to keep my head in the woodworking game.
I'm thankful for the support my fellow LJ's have been giving me by reading and responding to my blogs.
So onto today's "tip." As we all know making/marking a line to use as a guide to cut your board to final length is quite important. If you don't mark the piece, you have no idea or are just guessing where to cut.
I use a Sharpie to mark out my rough cuts. Some folks use chalk. But I don't like chalk just because it's messy and reminds me of Mrs. Walker and her obsessive compulsive need to have a student every morning and every afternoon to clean her chalk erasers. Soooo I have a deep seated aversion to chalk. :-)—- Actually while the Mrs. Walker story is true, I just don't use chalk. The Sharpie is just more convenient for me.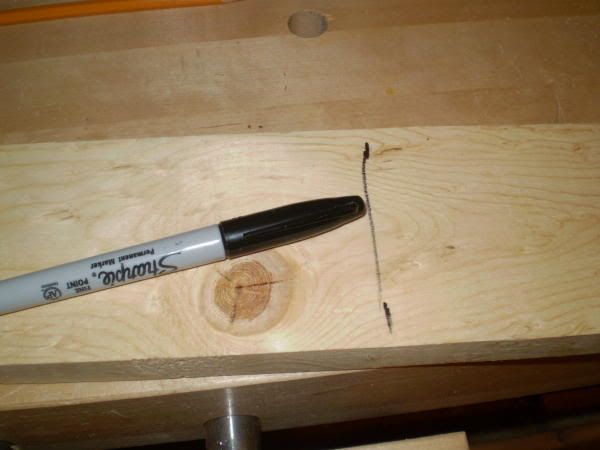 For my actual cut line I like two methods. A plain pencil line. I make a mark at the end of the square (or at the mark I'm using with a tape).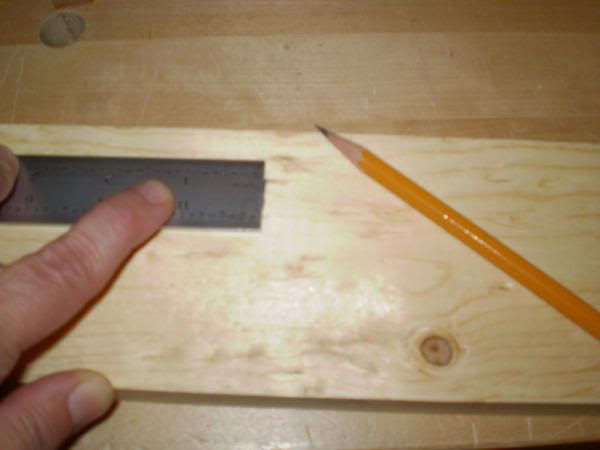 Then I flip the square around and place my pencil tip onto the line.
Then I slide my square up to the pencil and make my mark.
Another method is to use a marking knife.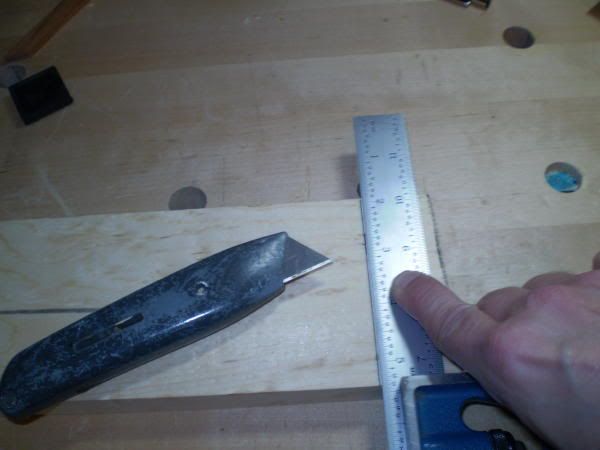 A utility knife, like what I used here – is ok—- but a marking knife is a better option. I just could not find my marking knife to do this little tip blog.
When I use a marking knife to score a line I like to use this little tip I learned in a class. Because the scored line is essentially a "knife wall" you can use a chisel to make a "trough" to place your saw blade into before you cut.
I had to blacken out the chip for it to show up in the picture.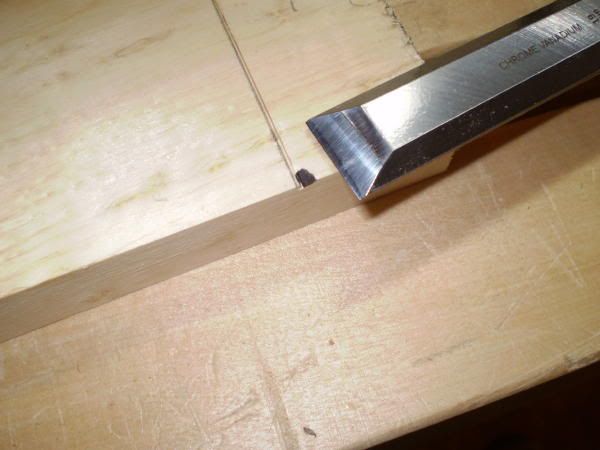 You can now use this chipped out portion to slide into the tooth of the blade and you'll get a perfect cut every time.
Now onto the argument about cutting on the line, on the left of the line or to the right of the line. Take the pencil line or leave it. We woodworkers sure have a lot of questions. Well here is the definitive answer (ain't I humble??) I take the line—- almost. I like to leave just a hair of the line.
OK – that's all I can muster today. I hope it's not to simplistic and maybe just a scooch helpful to someone.
Good health and happy sawdust making to you.
-- "Our past judges our present." JFK - 1962; American Heritage Magazine
---