OK—- so here's my first tip. I was reminded of this little tip when I saw a similar little "defect" on my bed rail.
So let's suppose, just to humor me, that you have been commissioned to build a new royal throne for Queen Elizabeth. And not only that, but you've been given the grand honor and immense responsibility to build this new throne out of the last remaining piece of Transalvanian Ugbuga wood. This is a very rare wood indeed. Can't screw this up, no can go to big box store to get more———no can go to Rockler or Woodcraft for more either. Soooo no mistakes—- OK???
You are moving along so well, the Queen is going to be pleased. You are ready to apply your finish and YIKES—- right in the middle of the center——you know the piece the Royal Head will be resting on as she ponders the wonders of all those people who adore her and will never have the money she has——there's a stray sliver. Oh the horror of it. You have to find a way to repair the sliver because you can't take it off or you'll have a large divet that the Royal head will not appreciate. But to complicate matters this sliver is too small to get glue under it to fix it. What to do, what to do.
OK – getting bored with my rambling yet???? Sorry—- it's my only entertainment.
Well we've all have had this happen—- probably not with that rare Ugbuga wood.
You've got a sliver something like this.
It's pretty small – yet large enough that you can't take it out. Now how to fix it. The biggest problem with little slivers is how to get glue under the sliver without lifting it up so far that you take the chance of breaking it off.
Getting the glue bottle's tip under it is next to impossible. You could use these little squeeze bottles

to put some under it, but it's still a bit messy. Using your finger to try to jab some glue under it is also too messy to be practical.
What you need is another sliver! I have used very thin paper, such as a store receipt, but sometimes that's not stiff enough. So one of the best things that I've used is a small, very thin, piece of an offcut. Something like this.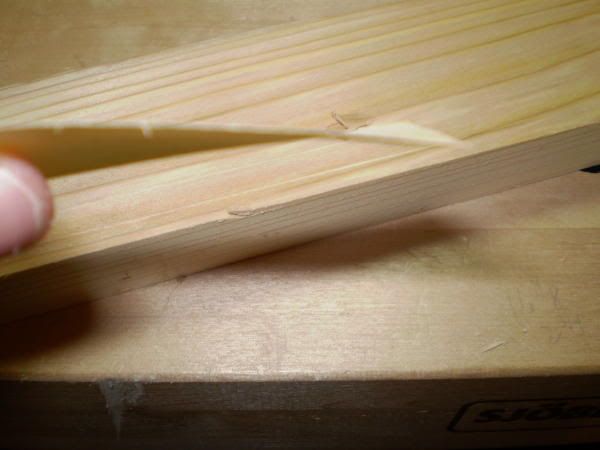 Apply a little dab of glue onto the end.
Slide it under the sliver, getting a good coating under the sliver.
Then clamp.
Let dry – sand and finish the project.
So I hope this helps you save a piece of very important wood someday. And when it does, please remember me——- :-)
-- "Our past judges our present." JFK - 1962; American Heritage Magazine
---