Well I'm still pretty tuckered out from my vacation drive home so I'm only puttering around today. But one of the things I need to do is make pegs for my cutting board we made in class. The tenons are to be draw bored and for that you need a peg. So I've been messing around with making pegs/dowels today.
The first thing is that you can make a dowel from any type of wood. The straighter the grain the better. If your grain is not straight it will still work, but you should work with shorter pieces.
I only have a small piece of white oak for my board so I practiced with some red oak, it's not the straightest grain but it will do for demonstration purposes.
By the way – if you are learning a new trick like this – it helps to blog about it, because you have to think it through more thoroughly than you may if you were not trying to explain it to someone.
So here we go. First you need a scrap of the wood you want to use for a dowel – it needs to be at least a smidgen wider than the finished dowel. Set the scrap in a vise or other type of holding devise.
Using a sharp chisel – rive a piece a bit wider than the final dowel you need.
The straighter the grain the neater more precise the cutoff will be. You can see this red oak did not go down perfectly—- but I can still use it for the 1/4" dowel I'm working on.
Cherry did not split well at all. But it makes a nice wedge.
Next taper down the corners of the cutoff so that it's tapered at one end. I used a block with a channel plowed into it to hold the cutoff on an angle to get the corners down. Then used a block plane to do the clean up work.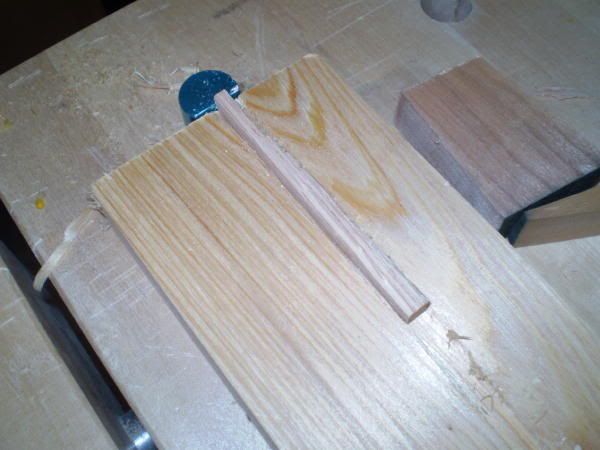 You can also use a knife to taper the end of the cutoff. But I would not suggest using this particular knife as it is so dull it would not cut butter—but you get the idea.
Next you need a dowel plate. You can pick these up at most good hobby shops or Lie Nielson sells them also. They run about $45-50 and you can get in inches or metric. Set the desired diameter of dowel over a hole in your bench.
Insert the tapered end of the cutoff into that diameter hole.
Then just started pounding away at it. As the cutoff goes into the dowel plate you will see that the sides will ""flower" up on the sides. That's a good thing.
You need to be careful as you are driving the cutoff to make sure you are driving it straight. If it gets cocked at an angle your piece will either break or not be completely smooth when you are done.
Once the cutoff is through the plate, pull it out the back and you should have a pretty clean dowel/peg.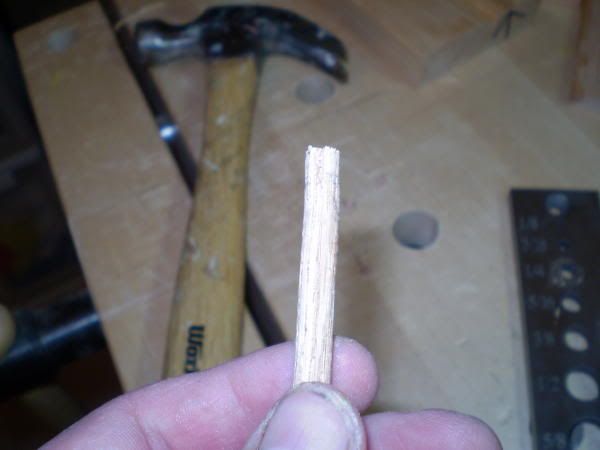 And for giggles if you want to make toothpicks, or just a smaller dowel, just move onto the next smallest hole.
Well – that's all the puttering for today. I'm headed off to watch a ballgame.
As always I appreciate your comments, suggestions or "you know that is not exactly right" help.
-- "Our past judges our present." JFK - 1962; American Heritage Magazine
---