Finally spending longer stretches in the shop. I have a friend who asked for a small cabinet to fit into a particular spot in her house.
Designing things is not my forte. One look here and you'll agree – probably anyway. This is a pine prototype that I wanted to make to give me a better idea of what the final project would look like. I built it mostly to get an idea on proportions. A drawing simply doesn't do me much good. So anyway here it is. The final piece will be made out of cherry and will, of course, have nicer hardware – places that show nails will be screwed from the back so as to not be exposed. The doors will be raised panels.
So here are my questions. I think the feet are to narrow. Is there a particular formula to decide how big feet should be in proportion to the body? I'm thinking now that it might be the golden ratio. But will look for your thoughts.
Also, hinges. My oh my, hinges are a real bogger. I had the doors set just right and the drawer front was aligned appropriately. When I actually put in the hinges as I tightened them down they pushed the doors inward. This led to a smaller gap between the doors and then my drawer front did not line up.
ShaneS was here the other night to pick up the jointer (figuratively and literally – he loaded that thing by himself!) and he suggested that the hinges needed to be pushed down tight before you start screwing them down. There has to be an easier way to install hinges without having to have a wrestling match. Please tell me how you install these types of hinges.
Here are the photos of the cabinet. Please give me your thoughts and critiques.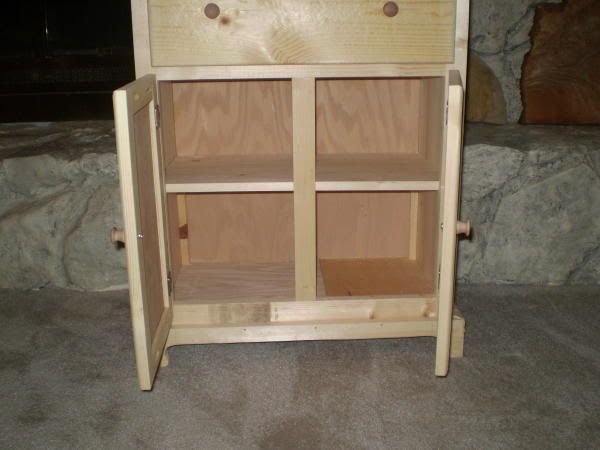 I forgot to say that the material is mostly scrap so it's not to pretty. When I get the final project done – I'll tear this apart and use the wood for another prototype or jigs, etc.
Thanks for your help.
-- "Our past judges our present." JFK - 1962; American Heritage Magazine
---