I'm still experimenting with these hand tools. So far I've twiddled with dovetails, butt joints, and now rabbetted joints.
I've managed to learn to cut on a bench hook.
The idea of a bench hook to to be able to support your work piece against a fence and have a ledge to cut into – when you finish your cut the saw rests on the ledge and does not accidently fall onto the bench hitting something it should not. You don't need to clamp your work piece, the hand holding it against the fence is enough to keep it still—this allows you put more finese to the saw and takes less energy to do the cut.
By the way – its still a good idea to keep your fingers away from the saw. Even a hand saw cuts flesh (sorry for the poor picture quality – that hurt and I was shaking a bit..
Next onto the shooting board.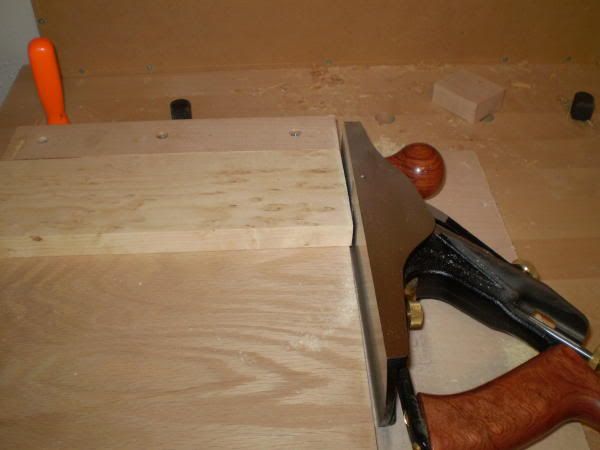 I cut my four pieces and used the shooting board to make the two sides and front and back the same lengths. It's amazing that you can feel just a very tiny variance between two pieces.
After laying out my pieces to decide where my groove should go for the bottom – I clamped the work piece in my homemade bench vise and used the small plow plane to cut an 1/8" groove.
Yep – the ply fits like a glove.
Now all 4 pieces are grooved.
Next I rabbett the two ends of the front and back.
This is what I end up with after all the cuts.
So here is the finished box.
Notice all the chamfers. That hides a lot of sins! The lid does not sit flat. I still need to do a bit of sanding.
This shows the bottom of the lid. Looks like a beaver got to it.
This is the bottom. You can see it's not perfect.
I will do a little hand sanding, flock the inside and put a finish on it. It did not turn out to bad. The planes have a learning curve that I'm still working on.
-- "Our past judges our present." JFK - 1962; American Heritage Magazine
---