The church auction is coming up fast. I've been out of the power shop for a while. But the last week or so I've been inching my way back out there. My chairs are built; now I'm working on the footstools. (I don't think I'll get to the table before the auction.)
This is where I've gotten so far.
The first was simply putting an 8 degree angle on the top of the two supporting legs. This is easy enough. Just move your chop saw to 8 degrees – line up your blade with the edge of the board nearest you and cut. I drew a black line to show where I cut.
Next up is cutting out the two feet and two "arms". These I simply taped two boards together – traced around my template – used the bandsaw to rough cut to about 1/16" from the line and then I used my microplane to get closer to the line then finished by sanding down to the line. I still have a little bit to do to get all the fuzzies off – but I can do that inside on my couch.
As you can see in the picture – I also marked my hole locations so I'd know where to drill my dowel holes.
After cutting and shaping this is what I have for two footstools.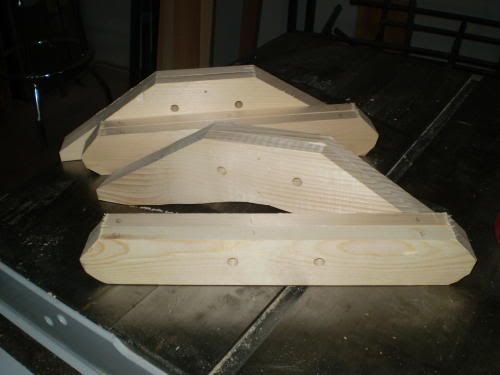 Next up was cutting the slot for the support rail.
Simple enough also, I simply found the center point of my board and then centered my rail and marked my slot.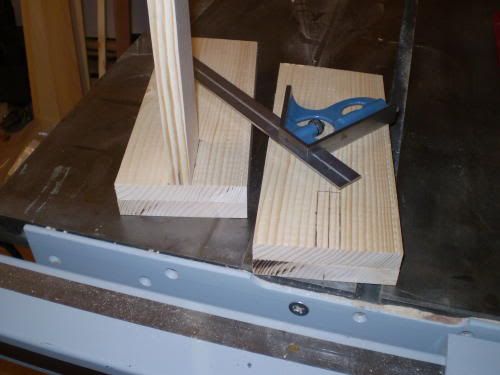 I then went to the band saw and cut most of the waste out and then finished squaring the slot with a small file.
That's all the further I've been able to get. Hopefully will get done before the auction. But regardless if I do or not, I have the chairs.
Thanks for looking.
-- "Our past judges our present." JFK - 1962; American Heritage Magazine
---