I'm just puttering around tonight. I thought I'd snap a couple of pictures of the homemade vise that I'm using on my bench. I made this because the face and tail vise on my cheapo workbench pretty much won't hold anything tight enough to saw or chop on. This was made out of a piece of scrap 3/4 ply. The size is arbitrary—I just took a piece and chopped it in half with the chop saw. I then hand chopped the slots for the screw and knobs and cleaned up the nasty edges (I'm still not a chopping queen) with a file. Added some cleats to the bottom so that the screws would slide easier across the bottom. This is clamped to my bench with two small clamps which makes it so I can move it out of the way when I don't need it. The size is accidently large enough to clamp a six inch board – which would probably be the largest drawer I would ever do.
I'm quite sure I've seen something like this somewhere, but don't know who to give credit to. The clamping strength is pretty amazing. For giggles I put in a board lying flat and in the vertical clamp and took a mallet and tried to get the board to move. Couldn't do it. So I think it's adequate for what I'm doing.
I probably could have done a better and neater job had I used my power tools, but I'm still taking it easy in that department.
Anyway, here it is.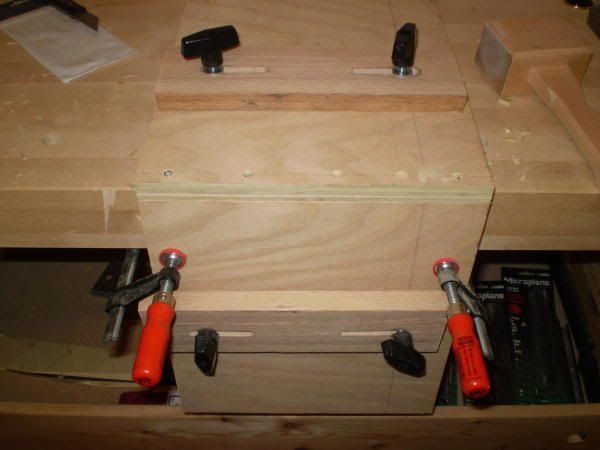 -- "Our past judges our present." JFK - 1962; American Heritage Magazine
---