Well it's taken a while—- but I've managed to get one of my chairs assembled. The last I left you all I had made the arms and had put plugs in the chair seat. So now it's time to prepare to pull all the parts together. The first thing is to attach the arm rest supports onto the front legs. You'll remember when we first cut out the front legs I drilled holes but did not counter sink them. I did that so that I would not accidently put the countersink on the wrong side (I sometimes forget there's a left and right side). The countersinks go on the inside of the front legs.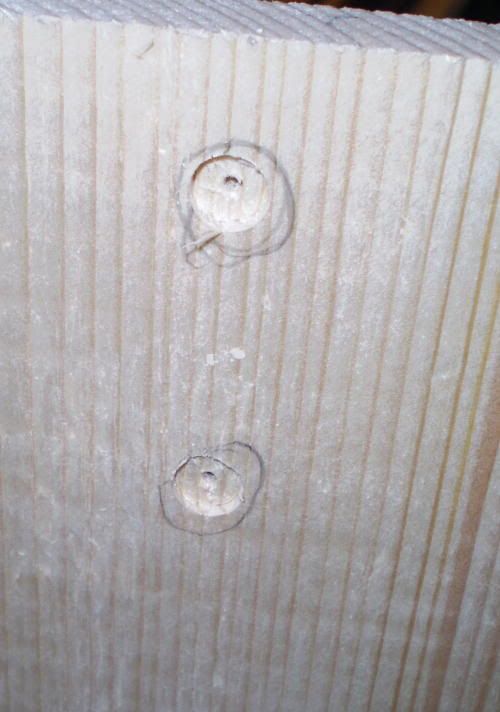 The support is placed in the middle of the front leg and to make sure I get it there, I simply use my square and run a line down the side through the holes that I've drilled earlier – then I mark the center of my piece and use the marks to get the placement right. Then drive two screws.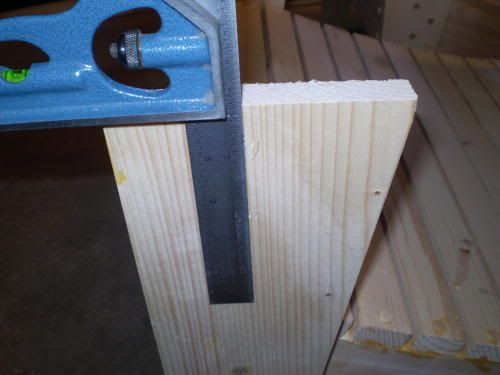 Next – I use my Kreg pocket rocket to drill holes for the screws on the bottom of the arm rest assembly. (I put the back inside the arms so I could easily decide where each hole should go.)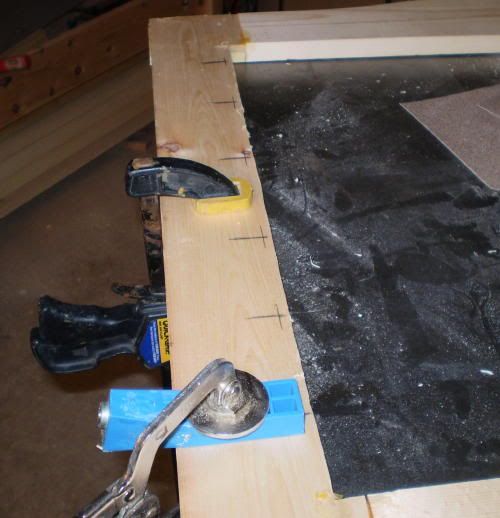 Next is getting two scrap pieces that are the same height as your front legs. Which mine is 19.5". Clamp these onto the back legs so that they will support the arm assembly.
I use a piece of scrap as a spacer to make sure the front of my arms are correctly positioned. The arm should have a 3/4" overhang toward the inside of the chair and 1/2" over the front. Once I get the arms positioned, I drill pilot holes so that there are screws going into both the front leg and the arm support piece.
Next place your back rest assembly into the back of the arms.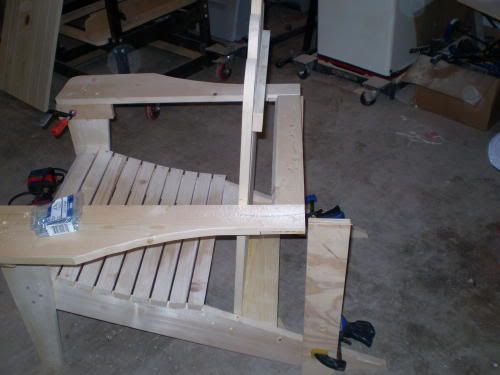 I use a scape piece to adjust the position of the backrest. The scrap piece should be level with the top of the leg.
I drive three screws through the back rest support——two into the bottom piece and one into the side.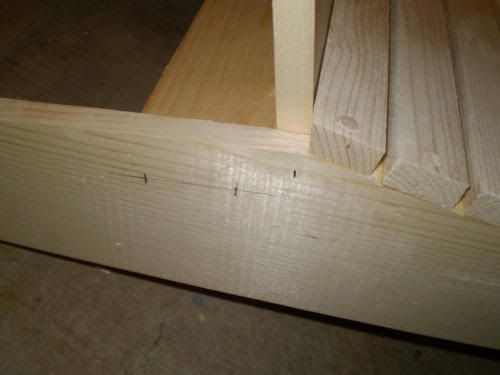 Last but not least, I drive the pocket screws through the bottom of the arm assembly and into the back rest. I didn't take a picture of that – so you'll have to use your imagination.
This is what you should end up with.
A sharp eye will show that I took the "final" picture before I did all the screws. Not sure why, but there it is. The last thing to do is to plug the rest of the screw holes and put on a finish. Then its onto the footstool.
Hope you've enjoyed this segment of my chair building. I've been slow, but I get there!
-- "Our past judges our present." JFK - 1962; American Heritage Magazine
---