This part is a little out of order, but I found this next little blurb in another class brochure I made and thought it would be good to add in here.
A half lap joint is a very basic joint, but it can be a very strong joint to connect two pieces of stock if done properly and in the right situations. The joint makes an intersection of sorts of the two pieces of wood. This intersection can be at the end of a board, in the middle or anywhere in between. I've seen half lap joints that are angled in different pieces, but generally speaking the joint is made by putting two boards together at a right angle.
Generally the two boards you want to join are of the same thickness (not necessarily the same width as is the case with this chair). Each board must have one half of its thickness removed – this makes it so the joint does not add any thickness to the project's completed joint. You want the joint to look pretty close to seamless.
I'm sure there are exceptions to this rule, but for the most part, you want the joint to be seamless. I've not done a half lap on anything less than a 3/4 board and would think that anything thinner may be hard to work with and still keep the strength of the board in tact after having removed half of it to make this joint. I suppose though that if you make the joint and secure it quickly then the chance of breaking would be negated since you are adding the second board that's been cut to the first. But, again, I've not done a board less than 3/4".
Okay now on to the new stuff.
Just a little review of what we are doing here. We are at the step of making the lap joint which will make up the arm assembly. So far we've discussed using the table saw to cut the joint by simply passing your wood over the single blade over it multiple times until you reach your goal. This method is okay with a flat topped blade, but is generally not my method of choice.
The next choice would be to use my tenon jig shown in the previous installment of this blog.
Now you'll notice that my blade does not go high enough on the arm (part K) to cut it all the way to the mark. However, The jig is perfect for the back support piece (part F).
Cautionary Note: When using the tenon jig, do not make the full cut in one pass. I think it is safer to make two or three passes raising your blade a little each time until you reach the cut you made while the board was flat on the table.
Next up is the router table. Here again, you cannot cut the arm's shape before you rout because you will be using your miter gauge to slide the board across the cutter. If you cut the shapes out first then you have nothing to ride against your miter gauge.
Set up is pretty easy and is pretty much the same as on the table saw. You want to use a straight bit in the router and have the smallest opening you can to capture the bit. I like to start my cut right at the line and move out toward the end of the board. This is just a preference. Either way, you should have a sub-fence set up to act as a stop so that you do not go too far while routing.
Depending on the quality of your router and the bit you are using you can probably make this cut in one pass. But if you have an under-powered router you may want to make two passes.
If you are cutting in one pass be sure to test your height on two scrap pieces to be sure you've hit that 3/8" mark.
If you choose to cut in two or more passes, raising your bit each time, you should pass each part (INCLUDING your scrap test pieces) over the bit before raising it. That way each board is cut exactly the same. Always make the second or third pass first on your scrap pieces to be sure you have not raised the bit too far.
Hop has come back to remind you that as always, when using a router, or any other loud equipment in your shop, always wear ear protection and have a good pair of goggles.
On my router table having dust collection set up does not help a lot during this particular cut due to its distance from the actual cut, but I still connect it because it does help a little.
Because the dust collector does not get all the chips you need to constantly check that you are clearing the chips away from your miter gauge so that you are not skewing your piece with vagrant chips getting between the work piece and the miter gauge.
As you did with the table saw, be sure to use a backer board on the miter gauge at the router table, this will help avoid chip out on the exiting side of the board. Also, because the bit will pull your piece into itself you need to maintain a tight grip on the board. Often adding a piece of 100 grit sandpaper to the fence will help hold it in position.
One caveat here – you guys with the Shop Smith set ups have a great miter jig with the hold down built into the handle. When I had my Shop Smith I loved that one feature, it really secures your work piece.
Now onto another way to use the router to make this cut. You can make a jig similar to this (I didn't actually take all the steps to make the jig—- just showing you what I would consider doing.)
First off you need to get your boards secure to one another. I, once again, use my table saw's fence to butt my pieces up against so that I know they are square to one another. I then place a sacrificial board at the opposite end. This board must be clamped down. It will act as a platform to keep your router from tipping over when you get near the end. This board should be square to the ends.
Next you need a "fence" on the left side of your router. This is a little trickier to set up. The easiest way to do this is to set your router onto the work piece with the edge of the bit just on the cut out line. Next clamp the "fence" down on one edge then using a square to be sure the fence is aligned properly clamp the other side down. I used to have a dedicated jig for this, but it's long gone. But this is the general idea.
Hop is here to tell me to not to do this method. I am out of the large router business until I can get more strength in my hands. That's the major reason I'm not going into any depth on this jig. If I make it, I'll want to use it and that's not good. So I hope you got the idea from what little I showed you.
One method we did not mention in previous segments is cutting the lap joint using the band saw. That's an excellent choice. If your band saw is set properly and you have a good fence system you should be able to cut the waste out in one shot (if your band saw has a riser block). However, you still need to make two cuts, one at the table saw to make the initial stop point and then on the band saw. Also, depending on how smooth you cut, you may have to do a little sanding to clean up the joint. An additional thing to think about – is you want to first cut the table saw cut. If you do not have a riser block on your band saw you will have to cut out the shape of the arm first then make the lap cut. Having cut out the shape first does not matter on the band saw as you easily cut from the left or right side of the blade.
Again, I'm not a big fan of the band saw for exact cuts, but it can be done. I'm just not very good at it.
Okay now after all that you might be wondering which method I'm going to choose to use to make my lap joints. I've chosen the tenon jig. Even though my blade will not go to the height of the joint, it goes high enough that the little sliver left that it cannot cut, I can easily cut with a small hand saw. I think this gives me a clean, fast cut. I only have to set the blade height once to cut the flat-on-the-table cut and then only have to adjust the distance for the tenon jig once to cut the waste away.
Here's what I do in step by step pictures.
I have some cards in my slot to show the height.
Did you see my mistake? I didn't make the flat cut on the table saw on my scrap pieces. That's okay. I'll use my band saw to cut off the waste. I only need to have the height to check my set up.
My first set up didn't go so well.
I reset and my second try was much better.
Part F was easy on the tenon jig because my blade goes plenty high enough.
On Part F you have to flip it end for end because you have a lap joint on both ends.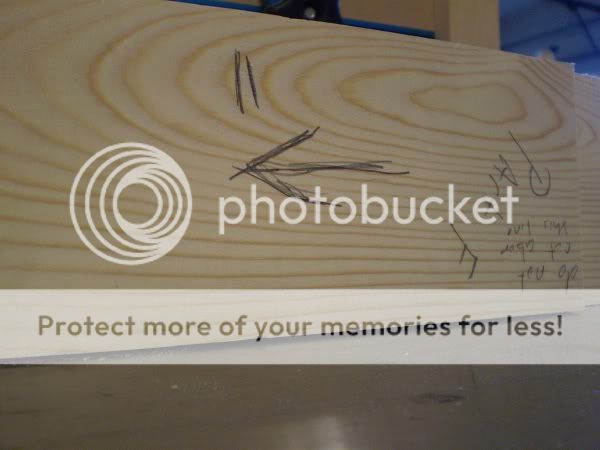 I've clearly marked what part of the arm goes and what stays.
On the arm support you must absolutely do it two passes. You can see that I've lowered my blade.
You can see that I'm left with a little sliver to take care of.
The piece can be cut out using a hand saw.
I've secured my piece in my work bench's vise and will use my left hand to keep the saw up against my wall.
This still required a little bit of chisel work.
Cleaned up – my pieces fit together perfectly.
Next step is simply to cut your shape out on the band saw.
The very last step is to cut the bevel on Part F.
Set your blade at a 25 degree angle and move your saw's fence to the proper setting. The easiest way to make this setting is to simply put work piece up against the fence and slide it to the blade.
You must have the lap side DOWN to make this cut.
You can see it's not much of a bevel but it's necessary to get the arm assembly to set correctly against the back assembly.
Here's my confession on this bevel. I've made quite a number of these chairs from this set of plans and I've never made the bevel correctly.
I always though the bevel had to be across the whole piece, including the lap portion. Well duh! Making the bevel across the whole piece gives you this ugly gap.
(Yes – this particular chair needs to be repainted!) I would generally fill this with a little wood putty or caulk when I painted the chair. Finally, I realized that I was wrong and now I make the bevel on only the non-lapped section of piece.
Be sure to sand your arms smooth on all sides. I generally tape my arms together and sand as one unit so they are perfectly symmetrical.
Next installment will be actually putting the two arms and the support together and final assembly of the chair itself.
As always, thanks for looking.
-- "Our past judges our present." JFK - 1962; American Heritage Magazine
---