This part will be kind of like watching paint dry. So really not much to see just a lot of repetitive work. The seat assembly is made up of the leg assemblies and 13 slats.
From front to back the slats are:
flat
30 degree on one side
15 degree on two sides
20 degrees on two sides
8 – flat
20 degree on one side
An extra pair of hands at this stage is helpful to get the parts lined up. I don't have those hands so I wrestle with the parts and just get them to stand up then work on getting the assembly square. I use a couple of the slats as hold downs and just clamp them up as the pictures below show.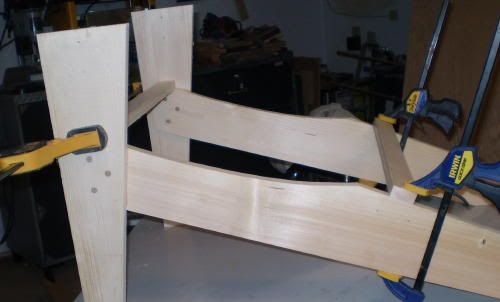 Because I know that my leg assemblies are exactly alike, I know that if I place the front of the legs next to my table saw's table's edge, I'm square. (The picture above was taken before I moved it to the edge, but you get the idea.)
I start by placing my first slat at the back. This would be the 20 degree on one side beveled piece. It's important to get the bevel toward the back and not facing front. This bevel is where the backrest will sit. I then use 1/4 ply spacers to fit my next slat.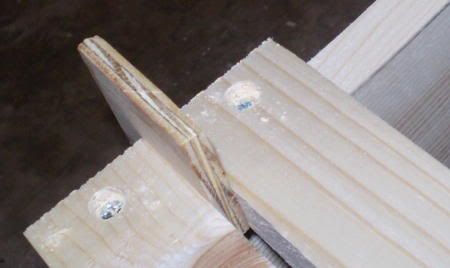 One caveat here, I've screwed in my first slat – but I have not glued it. This gives me an opportunity to do a dry fit. I've got enough spacers to put all the slats together to make sure everything is going to fit.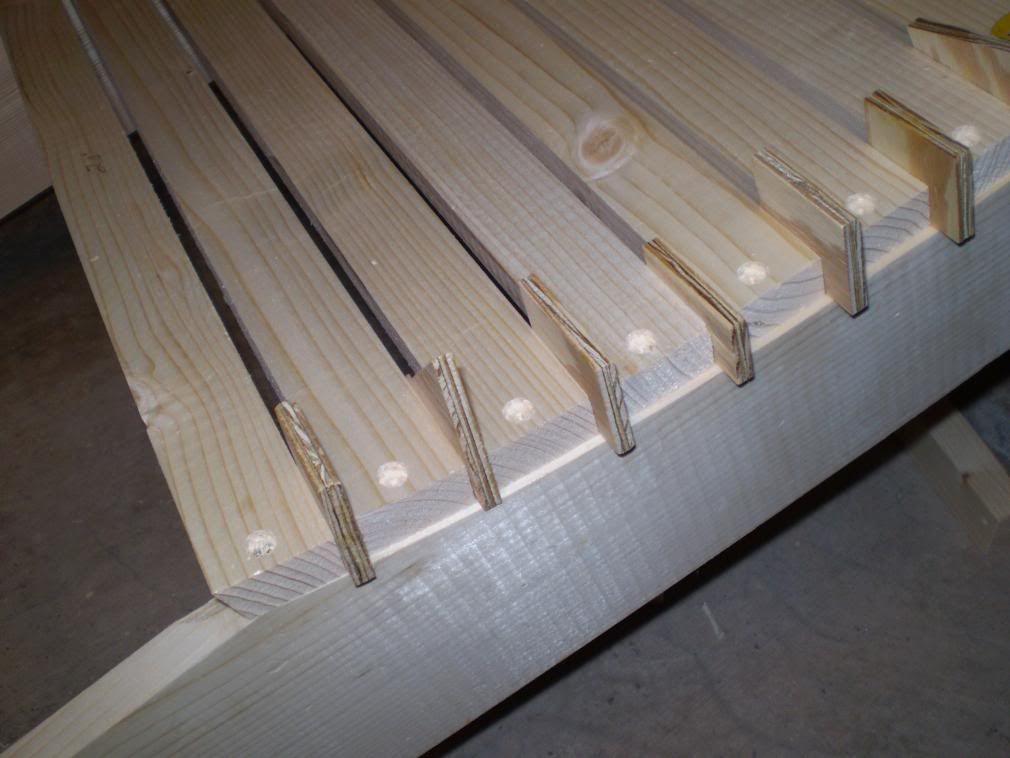 The dry fit is very important to be sure that your slats are not larger than or less than the called for 1 1/2" wide. The other thing is that my 1/4" ply spacers are not really 1/4" – they are just under. But not enough that it makes a great deal of difference on this project. I compensate just a tad for them. If this were a museum piece you would want to use true 1/4" material for your spacers. (The picture above, shows my slats not at the edge of the leg, but this is just a fit, when I screw the slats down they will butt up against the edge of the leg.)
Ok, so now that the fit is confirmed, its just a matter of gluing and screwing the material down. When all the slats are one you should have a seat assembly that looks like this.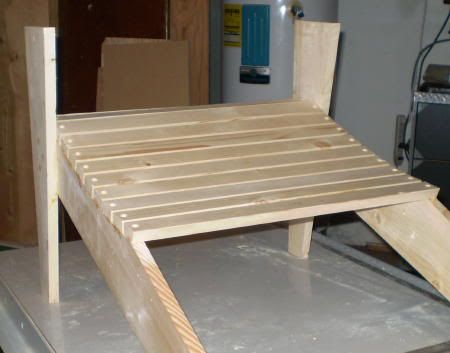 The next thing to work on will be the backrest. That will be a few days. I have to get moving on Christmas presents. As always, any comments, suggestions or questions are welcomed.
I have found that teaching this class in person is a whole lot easier than blogging about it.
-- "Our past judges our present." JFK - 1962; American Heritage Magazine
---