Lesson two
So I promised you a picture of my new shop helper – here she is on our way to the big box to get lumber. A friend gave her to me – her name is Hop – I think It's from some kid's movie – but not sure – but thought I'd show her off anyway. I can bend her ear from time to time in the shop and she always agrees with me!
So now onto the lumber side of things. Picking out good pine boards is going to be a job in and of itself. As most of you know the big boxes have trouble keeping the good stuff in stock, if at all. However, if you are as stubborn as me you'll manage to get the right boards. I have been known to go through every bunk of boards to get what I want. If one store does not have everything – I live close enough to another that I can go look somewhere else.
Now I'll say here as a former supervisor at a building materials store, one thing that I do when shopping at the big box stores or even at my local hardwood dealer is if I take it out of or off the shelf shuffling through to get what I want—- I put back what I don't want. I've also made friends with a few of the store managers/assistant managers and I can usually get them to discount a board that I normally would not buy for one reason or another, but I can use it if they'll discount it. Say it's got a bad check or several large knots that would not make it good for most uses – I'll get them to give me a discount. That helps them get rids of boards that will be hard to sell or they have to toss out and I get a board that I can use. I, of course, only do this when I know I can cut around the bad spots.
Here are a few pictures of things you want to avoid when buying lumber at the big box stores. First staples – yikes how many staples can they put in one board? There's always one staple at the end holding on the bar code then for whatever reason they have more. You want to be sure to pull these staples out if you buy a board that has them for several reasons. One – if you carry lumber in your SUV like I do, a staple can catch on your car seat and rip it – that would not make you happy. Secondly, picking up the board with staples in it can cut you – also not a good thing and thirdly a staple going through your table saw will, in the least cause sparks to fly and at the most may break a tooth or two on the blade depending on how heavy the staple is.
Boards with bad edges – this is a little bit of an iffy spot. I don't mind buying a board with a banged up edge if I know I can use it for a part that does not require the entire width of the board. If I can work around the defect and the board is otherwise in good shape – I'll probably bring it home.
Checks – I couldn't find a good example while I was shopping – but a check is basically found at the end of your board and is a crack that goes several inches or more into its length. I have a picture here that shows a check that has occurred around a knot. Again, if I could work around the check and the board is okay otherwise, I might still buy the board. But I'd keep looking first. I'll put this board off to the side for the "maybe" pile.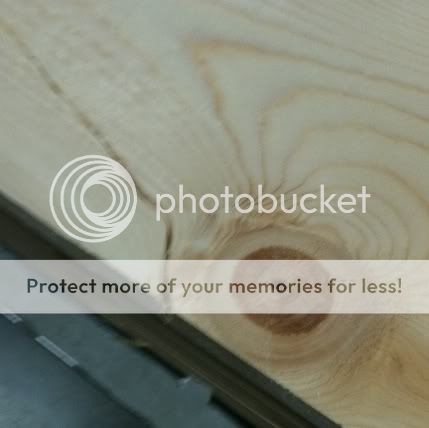 Twisted boards – avoid these for now – with experience you can learn how to deal with them, but for now put them off to the side. A twisted board is one that is warped or bowed along its length. If you bring the board's edge up to eye level you should be able to see down the board's length and can tell if it's not straight.
A cupped board, same thing – avoid it if you can for now. A cupped board is one that is bowed along its edges making a concave shape.
What I generally do, and this is by no means the very best way to see if a board is flat, not twisted or cupped, is just lay the silly thing down on the floor of the store. I'm quite certain the store's floor is not perfectly flat, but for our purposes it will show you if the board is twisted or cupped. If it rocks on the floor – leave it at the store. (Hey that rhymes!)
For a set of two chairs I generally buy the following lumber:
1×8x8 (3 pieces)
1×6x8 (7 pieces)
1×6x10 (2 pieces)
1×4x8 (9 pieces)
Also buy one 3/8" dowel rod
One box of #6×1.25" wood screws
One box of #6×1.5" wood screws
You'll need a 3/8" plug cutter – get a tapered cutter – you'll like it better than a straight one.
Carpet tape – get the kind that leaves little residue. I try to find the tape that is not of the "mesh" variety – I find the smooth carpet tape works best – but I've had a hard time finding that lately.
3/8" Forstner bit
3/32" drill bit.
Here are just a few pictures of things you'll need along our journey.
Hop and I both like our ears and eyes – so safety glasses and hearing protection are a must for any project.
This is a good project to start collecting tools and small items that come in handy. The playing cards will act as shims, just in case you don't get something just right. They do come in handy.
It's not necessary to have two drills but it comes in handy at assembly time. You'll need a small assortment of clamps – no Bessey's for this project though – but some small ones will do just fine.
I hope that gives you a little bit to work with for now. I'm going to try tomorrow or Monday to start making the templates. As this is Christmas week – that may not happen. We'll see how things go.
-- "Our past judges our present." JFK - 1962; American Heritage Magazine
---