On the first day of this blog I told you to avoid pitch when picking out your boards. I apparently missed a small amount on the edge of one board. So this is what pitch looks like. I'm going to be able to cut around this so it's not a big deal.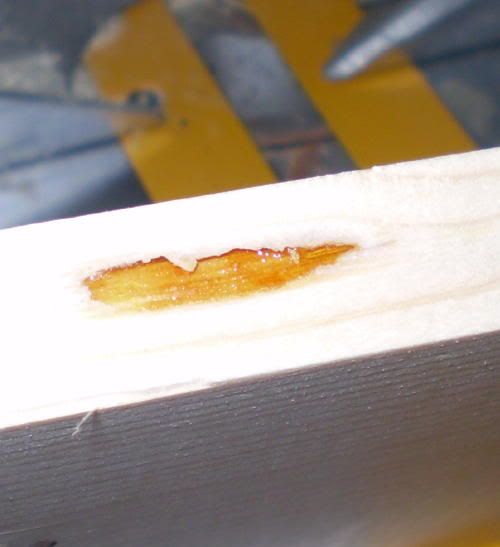 Today I'm working on getting the slats ready for the seat assembly. First a few housing keeping things on the leg assemblies. Make sure you have a left and right leg——two lefts don't make a right——sorry couldn't resist. I have made this mistake and have had to recut a part or two here and there. This is what your pair should look like.
You'll notice that my dowel pins are a bit on the long side. I intentionally make them longer than the required 1 1/2" but not generally this much longer. However, no harm no foul. There are three ways to cut these off. You can sand them down – messy – noisy and you have to wear a dust mask. You can chisel or use a flexible cut off saw.
I've always used the flexible cut off saw to trim my dowels down and then sand flat. Usually once they are cut I can use a sanding block to smooth them out. You can, of course, make quicker work of it by using the ROS.
As to the chisel method——this is my question. How I always get chip out whether I try to chisel out bevel up or bevel down. I know the chisel must be sharp—- but what's the trick?
At this point, it's a good idea to give your leg assembly a good clean up of any odd glue drips, etc. Once the assembling of the seat assembly starts the sanding gets harder.
Ok so now onto the slats. Each chair takes 13 slats. 9 flat and 4 beveled. 1) 20 degrees on one edge; 2) 15 degrees on both edges; 3) 20 degrees on both edges and 4) 30 degrees on one edge.
Each slat is 21" long x 1 1/2" wide. You can get 12 slats out of a 1×6x8. I use one of my cutoffs from making the leg support for the last slat. I generally rough cut my slats to just over 21" and then take them to the table saw and use a stop block and my miter gauge to get them all to 21".
To cut to width set your table saw to 1 1/2" from the fence. You will want the inside of tooth to match the 1 1/2" mark on your rule. I'm not sure I can write this as well as show it.
You can see in the picture above that the blade's teeth alternate directions – you want to base your measurement on the tooth nearest the fence.
When I rough cut my pieces on the chop saw – I did not use a backer board. You should use a backer board to avoid tear out. I'll try to pass this off as a lesson to you all reading this – but you know better – I just got lazy on this point. Anyway – without a backer board on the chop saw (or any cutter for that matter) you get tear out.
You need to clean these chips off and make sure your edge is smooth before you take it to the saw. If your intention is to use that edge as the edge against the fence – this is what you'll have if the chips are not removed.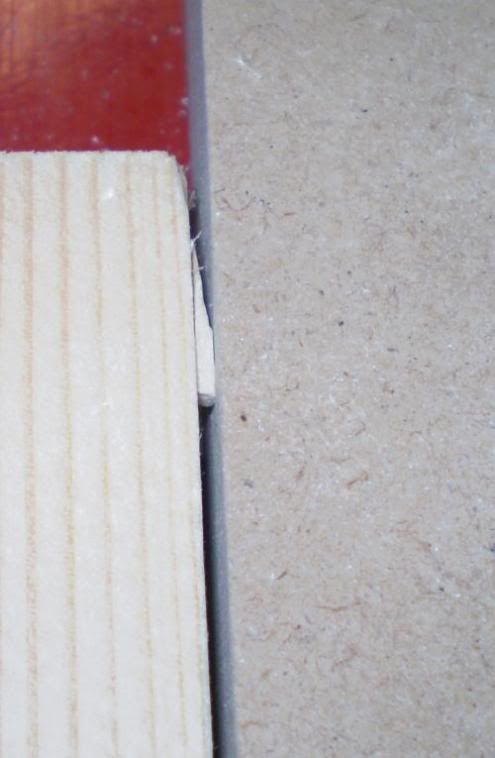 This small gap will deflect your board from its straight path. So clean up those edges!
Ok – so I've cut all my 1 1/2" slats – I have 27 all together 26 for the chairs and one to spare. The next job is drilling the countersink holes for the screws. If you have a fancy countersink bit you can skip this step. I've never picked one up so I use a Forstener bit and a jig on my drill press. One thing to remember here also, I cut all the slats flat first. After I drill the countersinks I go back and cut the bevels on the slats that require that.
The hole is drilled 3/4" from the long edge and 3/8" in from the short edge.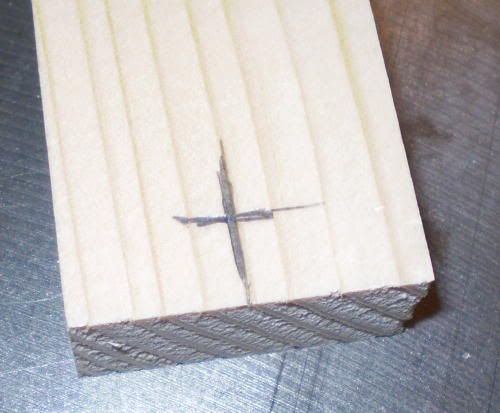 This next pic is really fuzzy – not sure why – but anyway – I take my marked piece and use the forstner bit to locate where the jig needs to be on the press and clamp down the jig. Then it's drill away. I generally make my countersink holes about 1/2 the depth of the body of the bit. This gives me plenty of space for the screw head and a plug.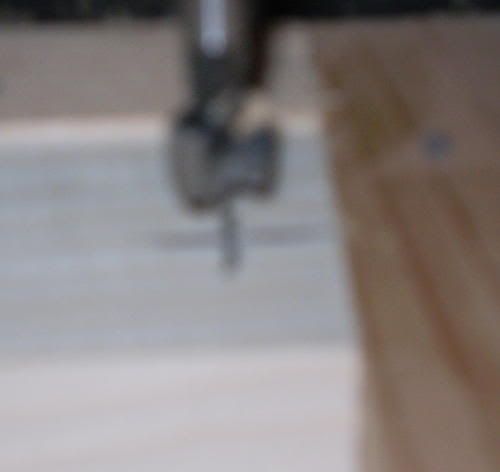 One caveat about drilling these holes. You want to make sure to go through all the slats and decide which side is up and which is down. If you have any knots or bad spots make sure they go down.
To cut the bevels I set my saw to the right degree using my Wixie gauge. This is a cool toy!
I'm not looking to get a knife edge on these bevels. I generally round off the corners of each slat so no need to be to very picky on the perfect bevel.
Once I cut the bevel I'm sure to mark each slat with what degree bevel it has. I don't know about you, but I can't eyeball the difference between 20 and 15 degrees.
Ok – all the slats are cut and ready to go. The next thing is assembling the seat. The first thing I do is clamp up the two leg assemblies using a couple of my slats and some clamps.
Tomorrow night I'll start doing the actual assembly. I've had enough for one night. I hope this has been helpful in some small fashion to some of you.
Any suggestions or questions are welcomed.
-- "Our past judges our present." JFK - 1962; American Heritage Magazine
---