ok – day one was all about the prep. I spent Saturday doing three things, shopping for lumber, making a short fence (that's a separate blog) and starting the leg supports.
Friday night I finished "cleaning" the shop. It's not perfect but it looks better than it did.
Before we go any further, just one word of safety. Telephones.
I keep my cell in my pocket and the landline on my bench. If anything goes wrong and I need help, I could scream all day and no one would hear me. I keep my phones for emergencies and hope that any accident does not knock me out.
As to the lumber. This is the pile as I finally have it home. There is more here than I need, but I bought extra for another project.
Let's talk lumber for a minute – actually I'll type – you read!
Since I'm using big box pine lumber. I knew I'd have my job cut out for me in getting enough lumber that was worth buying. I was right. It took about 4 hours all together to pick out the lumber. For an example, I had to go through an entire new bunk of 1×4's to find 9 that were acceptable. I could be wrong but I think there are about 300 pieces in each bunk. And this was a brand new bunk, just stocked by the store. I can tell this because it was obvious that no one else had been through it. I had one gentleman come up and ask if he could help me. I told him that no, I was ok. He asked what I was doing and I told him what I was making. He told me to not be so picky and that I should just take off the top because it was going to make his job harder to have to put all that lumber back once I'd gone through it! Could not believe it. But I told him not to worry, that I'd put back what I did not take. He checked back with me about 6 times. It was getting a bit annoying really. This was a long morning. But since it's for the church I didn't mind to much, although the guy was staring to get on my nerves.
Anyway, back to the lumber. I can work around some defects in lumber, like most of you. However, I worked hard to find the best pine I could. This is what you want to avoid 1) splits or checks on the ends of the boards; 2) pitch; 3) loose knots 4) cup; 5) twist; 6) bowed.
Splits and checks are the annoying "cracks" at the end of the board. If it's a small check, I'll put this board on my "maybe, if I can't find another board" pile.
Pitch – this is that gummy sticky mess that appears to be yellow pockets of nastiness on the board. You can't paint it or dig it out to make it go away. So stay away from it. I also reject a board if it's just been rubbed with pitch from the adjoining board. Unless its a spectacular board the mess of having to transport and clean up a sticky board is not fun and I've got better things to do.
Loose knots. I can work around tight knots. I can even leave a tight knot in the middle of a piece. However, a loose knot will often eventually fall out which will leave a hole in your workpiece. If you can move a knot – leave the board unless you know that you can cut around that knot. I put this board in my "maybe, if I can't find another board" pile.
Cup – When you look at the end of the board – if it looks like your bent hand – that's cupping. This would be a defect across the width of the board. I put that board aside. It can be salvaged if necessary – but for this project it is probably not worth it.
Bowed – is essentially cupping over the length on the board. This board is a definite reject.
Twist – this is a defect along the width and length of the board. This board is a definite reject.
More to watch for. If the board has bark on it I'd leave it. Look for obvious tree limbs on the board – these are hard to work around.
A few other things to think about when going to a big box store to buy pine lumber. The lumber comes to them wrapped up with steel bands. Sometimes these bands do not have protective pads under them and the result is that the boards on the corners of the bunk are damaged. You need to look for this defect as well.
Staples—- the box stores put their UPC tags on the end of each board with a staple. You want to pull these out when you get home so you do not accidently hit one with a blade. They are "soft" but they could still potentially knick a blade tooth.
Staples 2 – they also, for whatever reason, staple the edges of two boards together. I suppose this makes it easier to keep the bunk together. However, the staples end up sticking out and are potential "rip your finger" issues when you pick up the board. They also play havoc on car interiors when you transport boards in your SUV. I take a small pair of pliers with me and take these out before I load up.
I think that about covers lumber. Now onto the leg supports.
The leg supports are made out of the 1×6x8 lumber. You can get two leg supports out of each piece. If you lay them out as close as possible, you should also be able to get some slats for the chair and/or footstool out of the end of each board – so save those cutoffs.
This next photo shows how I work around potential knots.

The next photo shows how I've butted these two legs together. I've left enough room to cut these apart with either a jig saw or by moving the angle on my chop saw to match.
I trace around the pattern and then take the piece to the chop saw to rough cut the length. The important thing with chop saws and these long pieces is to be sure to have support on both ends of the work piece.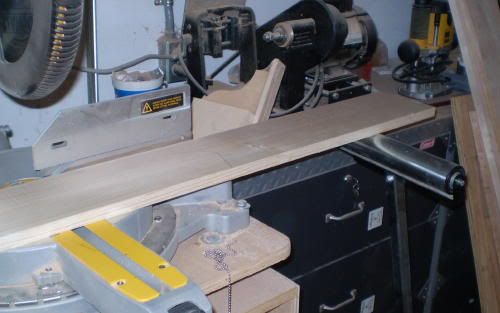 The supports are purely safety. You don't want to have to try to hold a long piece with one hand and use the other to pull the saw through the cut. Secondly, once the cut is made the portion of the board you are not holding is going to fall. You could, of course, let it fall. But my instinct is to try to catch anything that falls. So i support it instead.
Once rough cut at the chop saw, I take each individual piece to the bandsaw. I try to make my pencil lines good and dark so they are easier to see. Intention here is to cut the leg supports out and leave about 1/16th to an 1/8" of material to be trimmed off. The next photo shows using my hand as a guide or fulcrum to move tthe workpiece through the blade.
One thing about the cutting at the bandsaw. There will be plenty of small offcuts, keep a trash can handy to keep these off your shop floor – they can become a hazard pretty quickly.

Secondly about cutting at the bandsaw. You can stack cut. In other words, you can tape two workpieces together and rough cut them at the same time. This saves times. I do not do this. I have no particular reason why. I just don't. I stack cut all the time when I scroll saw, but I don't on the bandsaw.
Now back to the bench and prepare to finish up the supports. You can finish these up several ways:
With a plane or a sander. These two methods work best if you gang up two supports at a time and plane and/or sand them together. This ensures that both pieces will be identical. I'm not partial to the sanding dust nor am I good enough with a plane.
My chosen method to clean up the edges is to use a pattern bit in my router table. Set the bit so that the bearing rides on the pattern and the cutter is just at the top of the workpiece.
This is how I prep the workpiece to get ready to go the router. First I use carpet tape to attach my pattern to the workpiece. I usually put 3 or 4 pieces along the length of the piece.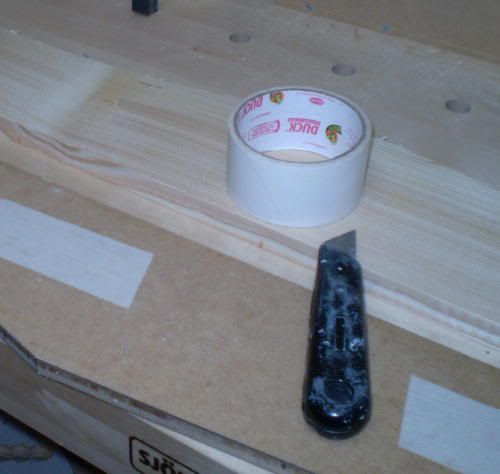 After I put on the tape, I align the bottom of my pattern with the bottom of the workpiece so that I have one straight edge. Then I do something that I've not seen anyone else do. I mark my holes for drilling before I rout.
I use an old 3/8" Forstener bit to mark the location of each hole that needs to be drilled on the front of the leg support. Just give it a good whack with the hammer and it will leave an indention that will come in handy in a few minutes. The other mark I make is at the back – I use a 6d nail to make the back rest screw location.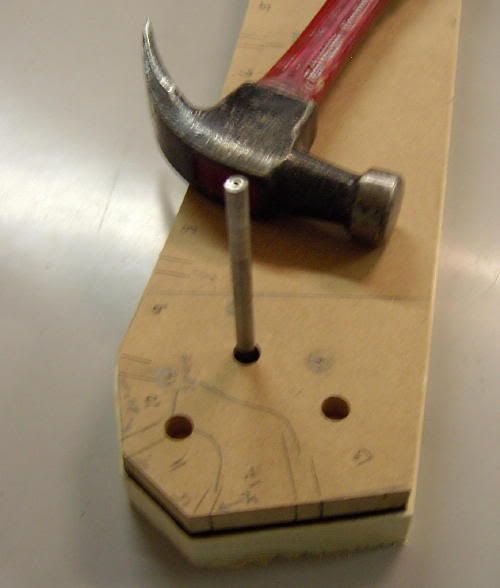 After marking the piece I take it to the router table and route off the excess. Be sure to use a starting pin in the table and go slowly around the corners. I generally do not have any tear out problems if I go slow around the corners. There is a technique called a climb cut that you can use to avoid tear out, but I'm no good at it and if I go slowly enough I generally do not have a problem. However, I am very careful to not have to much material to be routed off. If you leave a large amount of material from your bandsaw session you are asking for tear out at the router table.
Once routed the next challenge is getting the pattern off the workpiece. That carpet tapes works very well. I use a chisel to separate the pieces.
Once the piece is separated you can see the marks I made for the drill positions.
Next is a trip to the drill press. I chuck up a 3/8" Forstener bit, and set my drill press so that I will drill all the way through my material. I put my workpiece on top of a scarp piece to avoid tear out on the underside when the bit breaks through. Now as you can guess, I use my marks I made before I routed to line up the bit to drill these holes.
I DO NOT drill any holes in the backrest position yet (the spot marked with the nail hole). You'll understand why as we go along on this project.
This is what you should have at this point.
Now I'lll finish the other three legs and call it a day.
Well I hope this has been informative and maybe even helpful. Please let me know if there is anything that I could do to make this more understandable or if you think I've been to verbose or not verbose enough.
Thanks for looking.
-- "Our past judges our present." JFK - 1962; American Heritage Magazine
---