Well – here starts the journey. I'm going to build a set of two chairs with footstools and a table to donate to my church's services auction. As much as I'd like to donate cedar or cypress or some other really nice wood. I'm going with pine. The preacher and I talked about it and the most likely scenario is that whoever bids on the chairs will probably paint them so no sense using the really good stuff. So I'm going with pine from the big box store.
Picking out the pine is going to be a job in and of itself. As most of you know the big boxes have trouble keeping the good stuff in stock, if at all. However, I'm quite stubborn and have been known to go through every bunk of boards to get what I want. If one store does not have everything – I live close enough to another that I can go look somewhere else. One thing that makes me different than most who shop for lumber at the big box is that if I take it out of or off the shelf shuffling through to get what I want—- I put back what I don't want. OK – that's the end of that lesson. :-)
Whenever I start a big project like this I do several things. First – I clean my shop. I had to give up my 5-car shop and now I've got a two car shop so space is at a premium. I'll need to straighten up just to be able to store the lumber and work it around.
I'm ashamed to say that right now my shop looks like this:
and like this:
Will get this mess cleaned up tonight – put everything in it's place and put the planer back in its storage area since I'll need the end of the saw table to assembly of the chairs.
Second thing I do is get all my patterns together. I've made so many of these things that patterns are a necessity. This is my pile of patterns, it includes the child size, regular size and large size patterns
The pattern I base my chairs on is the Wood Plans pattern (number OFS-1001). The paper patterns are cut out and then put onto mdf. You can imagine that the paper patterns are creased as seen here.
Before I made my mdf patterns, I actually ironed the paper flat to take out the creases. The fact that I even own an iron would shock most of my friends, the fact that I have used it may actually cause them heart attacks. Of course using it as a woodworking tool probably would not be so shocking to them.
I make patterns of the front leg, leg support, arms, the arm support, the middle slat and the outside slat. You can see I try to mark them out pretty well. The outside slat is the same side to side dimension the only difference is length. I've marked the two different lengths on the one pattern. My choice would be to use 1/2" mdf, but some of these are 3/4" just because that's what I had on hand.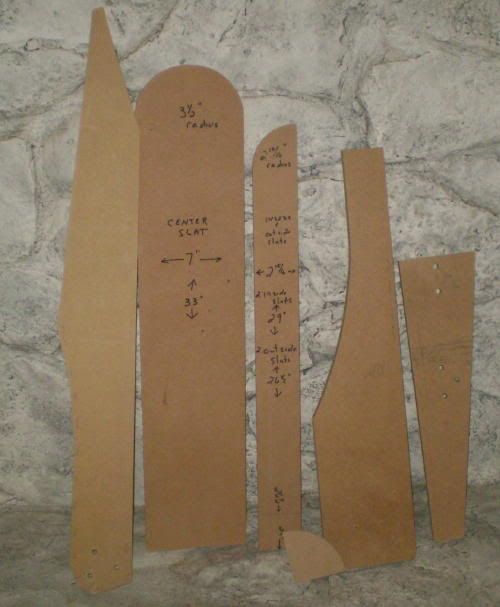 One of the most important "patterns" is actually a cheat sheet of sorts. When I put the arms on the chair I use this little piece to align the arm with the leg.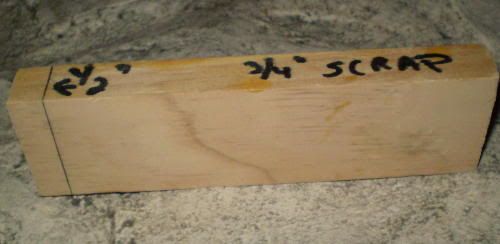 As for materials – this is what I'll be going after: 1 – 1×8x8; 7 – 1×6x8; 2 1×6x10; 9 – 1×4x8; this will get two chairs, two footstools and one table. More than likely I won't find just exactly this even at more than one big box so I'll have to fudge it a little. Whatever scrap I come up with making these chairs will be used for jigs and such later on.
Just some general things now. There are several things I do differently than the plans call for. 1) I use mdf patterns; 2) I use dowel pins to assemble the chair and footstool legs 3) I do not put screws through the front of the back rest and 4) I do not use the materials lay out that they suggest.
As to patterns – who wants one chair and there is no sense reinventing the wheel each time you want to make one. Hence mdf patterns.
As to the dowel pins. I think it is pretty well documented that wood on wood joints are stronger than glue and screws. The "wiggle force" that these chairs go through on a deck or in the yard require a stronger joint to survive more than one season.
As to the screws in the back rest. There is simply a better and easier way to attach the back slats to the cross members. Wherever you put a screw – you have to cover it up with something. If I can hide them I will. Secondly, the way I put the backrest together I think is so much easier than what they say to do. I'll show you how I do it in a few days.
As to the materials layout. I think they have to much waste – hence my cutlist.
One last thing I do before I start a big project like this is to gather up some smaller projects to work on to break up the day a bit. And because I cannot stand up to long in one stretch I've gathered up my sanding and box assembly projects. These include the six pencil boxes I've made for some of the girls at work, the one jelwry box I've made for one of my bosses and of course my Stanley hand plane I'm refurbishing. These will be the projects I'll work on in the living room while I watch football – such the life I lead!!!
Before I start cutting on materials I am going to make a couple of jigs. One is a taper jig for the front legs and the other is a short fence for the table saw. I've been thinking about a short fence for quite sometime and I think it is a very good idea for safety reasons. It really does cut down on the risk of kick back and that's always a good thing.
I hope you all will enjoy the ride and I will certainly appreciate any feedback and suggestions to make these chairs better and any technique tips as well. If there is something you would like to see on this blog – please let me know. I'll be glad to add anything you'd like.
-- "Our past judges our present." JFK - 1962; American Heritage Magazine
---