Well I still don't have this the cleanest of planes. But it is closer to being usable. I've used just a little penetrating oil and elbow grease. I probably won't get this as clean as some of the forum – but my objective is to get it cleaner, sharper and lapped. I don't think I have the patience to get it shiny clean, but who knows I may change my mind and keep going and going and going on the clean up.
Tonight I worked on smoothing up the tote and knob. Both were VERY, very rough to the touch. They are "softer" now and I think I won't have any trouble using them. I put a coat of tung oil on to bring out the grain.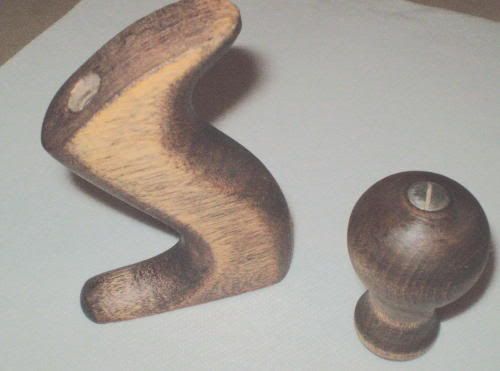 Here are my cutter and iron. Much better looking that what I started with.
I'll be starting to work on sharpening the cutter tomorrow night and then on lapping the sole and sides. Have a lot of work to do in this regard.
-- "Our past judges our present." JFK - 1962; American Heritage Magazine
---