OK – I've pulled out my Stanley that I bought off e-bay a few weeks ago. These are a few pictures to get the blog started.
Some front views for overall effect: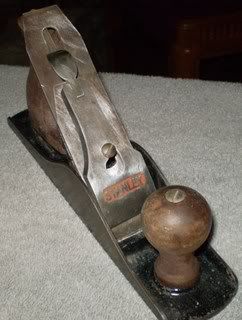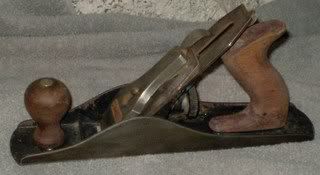 You can see from those photos this plane is not as bad as some.
Here's a shot of the mostly disassemled plane.
This is a shot of the tote and front knob. The picture does not do justice to how rough the wood is. Feels worse than my winter hands.
You can see that the body is not that bad as far as rust goes.
The cutter, frog and cap iron are going to need some work.


http://i243.photobucket.com/albums/ff71/Howyudoin/cutterandironbeforeshot.jpg
Just a little penetrating oil and a brass brush and these cleaned up ok—- still work to do, but this shows that it can be done.
I could not get a picture of this but the sole really needs lapping. It is sooooo not flat. I could probably get 4 playing cards between the sole and the straight edge – in front of and just behind the throat. There is not twist though – that's a good thing.
Several questions for you guys.
First – why can't I get my pictures to show the whole picture and not just the left side?
I was going to get the battery charger and the bucket out to get the rust off this piece, but I think penetrating oil and a brush will get most of it. Would it be wrong to use a dremel tool's brush on this?
-- "Our past judges our present." JFK - 1962; American Heritage Magazine
---