Didn't get much done tonight – wasn't feeling well so I did some set up and shop cleaning. Basically I'm ready to make the bottom panel. I have to plane down the 3/8" material to 1/4". I had already cut my material down to rough length so that precludes running it through the planer without a carrier.
I use either a piece of melanie or mdf as the carrier. I mark out the size of the piece and use carpet tape to hold the material down. I marked the carpet tape so you can see it in the picture. I make the tape longer than the piece to give me something to pull up to get the board off the carrier when I'm done planing. Some only use small pieces of tape, I prefer to run a piece along the whole length of the board. I had a board come off once and it wasn't pretty – so now I use the extra pennies and use a long piece of tape. If I have any trouble pulling the piece up, the extra length gives me a cushion to use a pry tool to pull up on without marring the wood.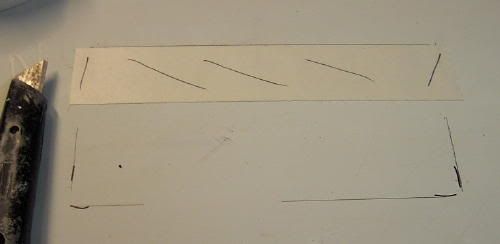 I have to go down to 1/4" – I will use my Veritas set up block to check the thickness as I go. I'm careful not to lay the set up block on the tape so that it is flat on the carrier and I get a better measure on the wood.
That's all the further I got tonight. Cleaned the shop a bit and should be ready to go again tomorrow.
Thanks for looking.
-- "Our past judges our present." JFK - 1962; American Heritage Magazine
---