Ok – so now I'm on to making the box itself. I've not accomplished much today as I'm expecting company and spent a lot of shop time cleaning and preparing a meal. But the slow process is ok I'm really seeing things a little differently being forced to go slowly. It's also a test of my patience trying to take pictures of the process along the way. For every pic you see here – I've probably taken 30 or 40 to get it right. I spoke to Santa last night and I really am getting a new camera for Christmas – maybe sooner!!!
So without further ado. This is the overall plan of the box I'm working on. Hopefully, I do Mr. Stowe's box justice in both this blog and in the finished product.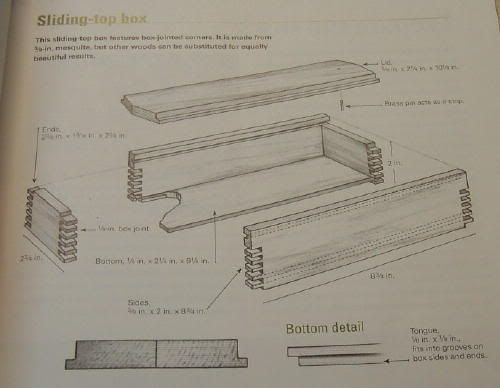 I've chosen mahagony for the wood as I have a ton of it and it's easy to work.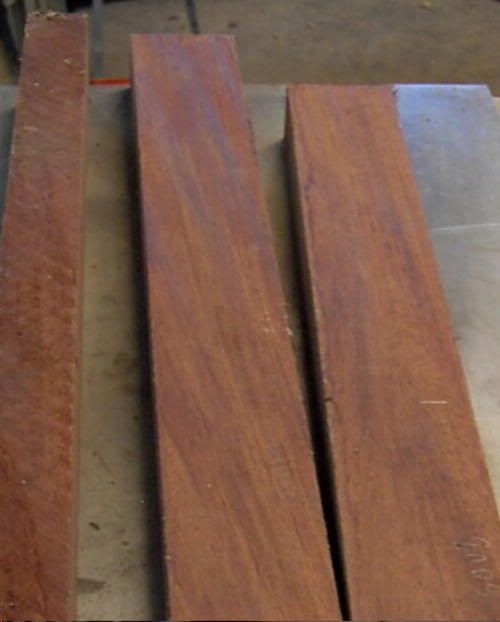 I'm trying to make it habit to check settings regularly and with this new little gadget by Wixie. You can see I'm only .2 off – I did not fuss over the .2

I jointed one edge and one face flat. I've never been a good jointer—still working on the technique but I did ok here.

Next off to the saw to rip to width – got the grip tight as the featherboard – its works well. You can't see the spliter but it's there. My guard broke into pieces so I need to get a new guard of some sort.

I try to make sure that I have all my pieces set up so that I can cut and just get the next piece and I don't have to worry about what side goes to the fence.

I am not happy with my bandsaw for resawing. Completely a tune up problem that I need to work on. Nevertheless I'm resawing on the table saw here. I start with small bites. I resawed to 1/2" and it was interesting that I got some twist when I finished the cut. But funny thing was that the twist is on the large cutoff portion not the 1/2" portion – that part is still dead flat.

The next cut – I flip the board end for end and keep the same face against the fence and make a second pass. Being mahogany I could probably safely take larger cuts, but I'm in no hurry.

I continue cutting small bites until I get just a tiny bit left. Some more daring folks would just cut all the way through—but I'm not that brave.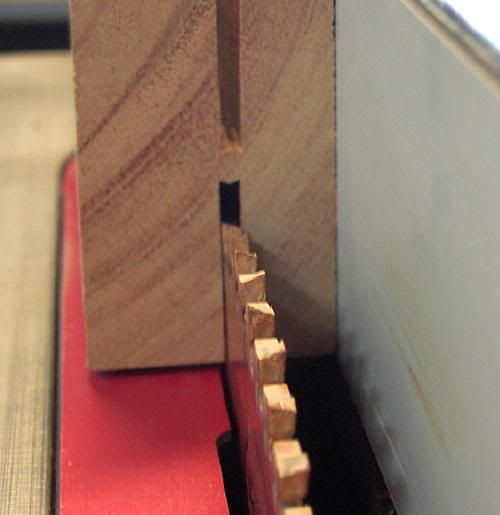 I finish the resaw with either a handsaw or the bandsaw. Both were equally fast. The handsaw is definetly less dusty and noisy.

or

Here's my safety pitch. I usually wear my hearing protection, ALWAYS eye protection. When I use the planer I always wear my hearing protection. I plane down to 3/8".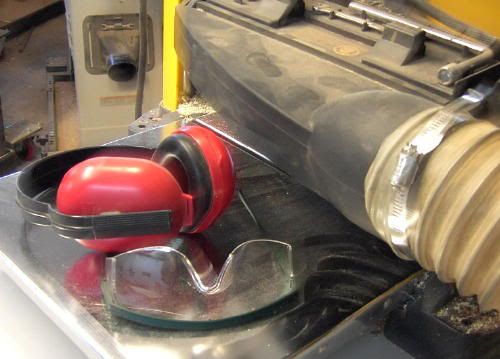 This is my crosscut sled that I built at American Sycamore 3 or 4 years ago. It's holding up very well.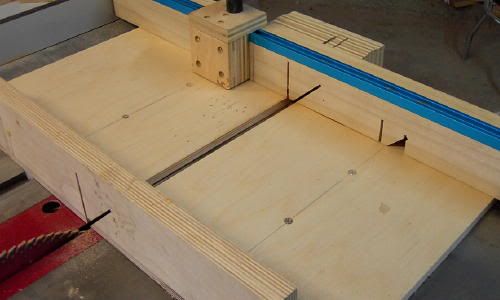 Next was setting up my stop block for the long side. I used the sterrate to get an accurate measurement. I had to put a shim under the leg to hold it straight against the stop block to accommodate the chamfer on the bottom of the block.

For the short sides I added a second stop block that I clamped to the first stop. I'm using a lot of scrap and the piece I picked up was a tad short. About 3 playing cards shy – but this works. I'm not sure how the flow of the grain would go if I did not cut long side, short side, long side, short side. Even though the article does not say to do so, I decided that I should do it that way. A second stop block makes it a no brainer on having all sides the same.

I square up both ends of each piece so I don't accidentally screw up that part of things.

And finally here are the cut parts with two extra pieces for test cuts when I'm ready to cut the fingers.

That's where I'm at until tomorrow. Hopefully I'm not boring you to death. But I'm finding that doing this blog is really slowing me down and making me think more throughly through the process. So bare with me!
Of course, any suggestions or comments are welcomed.
My Buckeyes just lost – no national championship for us. :-(
-- "Our past judges our present." JFK - 1962; American Heritage Magazine
---