It only keeps getting better and better. Today was a very interesting day – not just for the woodworking but for the conversation and friendly interaction. Kelly always has a "reception" on Wednesday evening – just sit around a talk with one another with some wine or beer and some great finger food to share. Tonight was extra special as we had a well known woodworker drop in for some chat. Don Weber dropped by and it was fascinating listening to him talk about his work and additionally telling stories on Frank and getting Frank wound up telling stories about Hungary. If you don't know who Don Weber is – please take the time to check out his website: http://www.handcraftwoodworks.com/ – he has had several articles over the years in most of the woodworking magazines so you'll probably recognize his work even if the name does not sound familiar.
Back to the class – today we finished up gluing the rest of the boxes and putting on the tops and bottoms.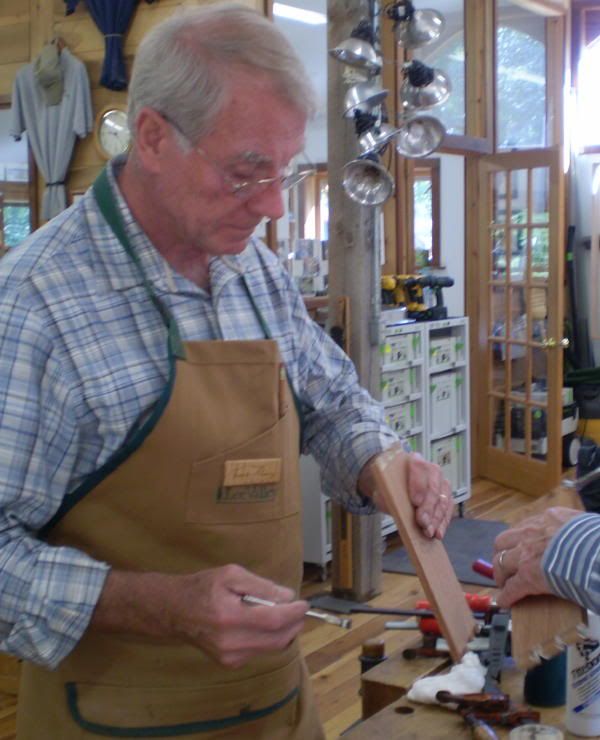 The picture above does not show this very well, if at all, but Frank very strongly encourages you to put glue not only inside the sockets – but on the inside of the piece itself. I've not seen anyone else really saying this – but it certainly makes sense and I can't see any argument against it. It's gluing end grain onto face grain – but it's another anchor point. And don't scrimp on the glue (don't be messy either) or Frank will let you know it pretty quick that you need more glue!
This is my box so far.
Frank took some time to go through some table saw instructions. It was quite informative for me. No matter the articles I've read I never quite got the idea of putting dents into your miter gauge to get it to fit better in the miter slot. Kelly has a new Saw stop so Frank took the opportunity to show how to get a few things set – including the miter gauge. It's amazing to see with just a few whacks with a punch and all the slop is gone from the miter gauge. Frank teaches a table saw class that takes all weekend. I think it would be well worth the time, but we only had about 15 minutes to go over quite a lot. But just the miter gauge thing made it a very worthwhile 15 minutes for me.
The table saw came up because we are going to use the table saw to cut the tops off. Frank uses a 7.25" (I think that's the diameter) circular saw blade that is about 1/16" in thickness. Talk about tiny! But the thin kerf takes out so much less material and it's cuts baby bottom smooth.
I should have taken a picture of this – but I didn't (my apologies). But it's really is the simple things that makes you want to do "I could have had a V-8" slap on the head. I've probably cut 25+ boxes apart over the years and not once have I done this. Frank cuts the box, just like I do, but his way of keeping the box sides even while you cut the ends is just pure genius. First you cut both long sides – then I usually tape in two shims on each long side so that I can cut the ends without the sides caving in. Frank uses shims also—- but only two. Two long shims that reach from one side to the other. Also each shim has been shaped into a wedge on one end so that it is easily slipped from one side to the other. And to add to that he puts an arrow pointing to the wedge side so that he does not even have to really look to know what side to feed through first. He tapes both wedges down with a few pieces of blue painter's tape and he's good to go.
After cutting the tops off – we then flattened them on the pieces of mdf covered with 220 grit paper. The boards we are using are mahagony so the boards sanded very easily. I must mention that the blade Frank used left very little to sand.
Mostly, however, the day was about installing the hinges and the lock mechanism. The hinges we are using are your typical barrel hinges from Rockler.
The hinges are placed about the same distance from the edge as they are long. Our hinges are about 1.5" so that's about how far they are in from the edges. Mark your hinge position with a pencil and hold onto your hats from here! I consider myself very well read, but in all the articles and books I've read and all the classes I've taken I've never, ever seen this done – but it sure works well.
First no surprise here – but use some spring clamps to hold the top and bottom pieces together and aligned.
Then – this just blows my mind – but get that dovetail saw back out. Frank defined his hinge edges with the saw – not a chisel. You can use a chisel – but apparently he likes using the saw.
You certainly get a good clean line to chop to. One caveat to keep in mind using the saw though. You must be careful not to pull the saw back so far that you accidently cut into the front of the box.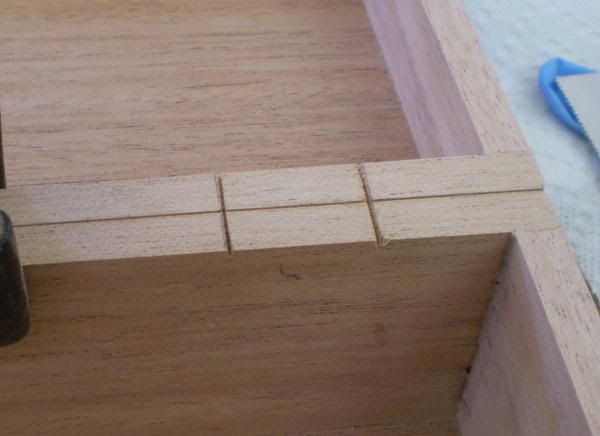 Next step is to make a series of small chipping cuts to bring up the material to but pared out.
After the initial chipping cuts your hinge area will look like this.
Use your chisel bevel side down to clean out the chips.
Your mortise should be deep enough to house the hinge leaf just a smidge below the surface of the wood – but not more than a smidge into the barrel of the hinge. I know, I know, that's almost impossible to understand – but I've never said I could explain everything!
Next are the screws – geez where to start. First use an awl to cut the holes. But not just any awl – a round awl will split your wood. You certainly don't want to do that at this stage. You want a pretty close to square awl – Frank used a mill file to file the edges down to make a good awl to use. Use the point of the awl to find as close to dead center of the screw hole as you can. Once you have that use steady downward pressure while at the same time twisting the awl. – Oh – and keep it straight up and down while doing do.
One of the tricks to get the hinges right, and it makes perfect sense now that he said to do it, is to do the lid hinge holes first. Get the hinges in the lid set just right and tighten them down. Then put one screw in each of the body hinges – open and close your box and see how things fit – use the third and fourth hinges to make any adjustments you need.
In concept this is all so very simple to understand. The carry through though sure can be harder to implement. I started off OK – but then made one hinge mortise to deep and one off a little to the middle of my box. No worries Frank showed me how to fix it. A little sliver of poster board in the hinge mortise fixed the depth issue – and no there is no way you can see that piece of poster board – no way at all. The misalignment was a little harder to fix – but it was doable. The easy part is making the mortise wider with a whack of the chisel. I had to fill the screw hole with a sliver of wood, let it dry and then redrill with the awl. Came out pretty good.
I'm not even going to try to explain how to mortise in the lock mechanism. First off, I don't like the look of the lock so I'm not going to install it on my box. Secondly, it's way, way too complicated for my writing skills. I'll refer you to the internet for this one! Sorry folks.
Well that's all I can really think of at this point. I hope you are enjoying following my blog. If you have any questions that I might be able to answer, feel free to ask. I'll do my best to answer.
Thanks for reading my ramblings.
-- "Our past judges our present." JFK - 1962; American Heritage Magazine
---