Last night I was welcomed for another visit to the shop belonging to local LJ cabmaker, so he could help me re-saw and dimension some wood I've been accumulating. I really dig his shop. It's got all the toys I want with plenty of room to work. My wife pre-emptively advised me that I could never build anything that big in our back yard. Yeah I know, but geez, way to step on a guy's dreams…
Here's the man himself doing what he does best. He's not as active of a LumberJock as many others on this site, but a difference worth noting is that he actually does woodworking to make his living. While we're chatting it up on forums and our blogs, he's churning out cabinet work to pay the bills.
A while back I acquired this slab of walnut. It came from a mid-20th century modern bench that had been banged all to hell. The finish was too far gone to repair, half the legs had fallen off, and it wasn't a valuable antique piece, so I just scrubbed off the remaining finish in order to slice it up.
But before I get to the wood gloat, check out this vise he's got on his main bench. It's a pattern maker's vise, and it's glorious. In addition to moving like you see here, the outer face of the vise can also swivel horizontally to hold odd shaped pieces. It's really an amazing piece of hardware.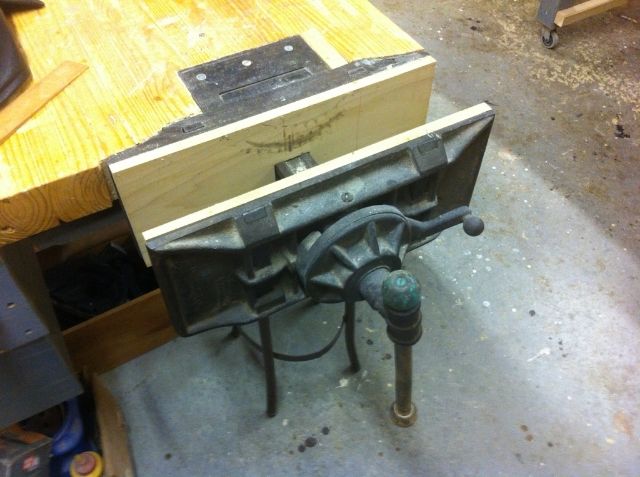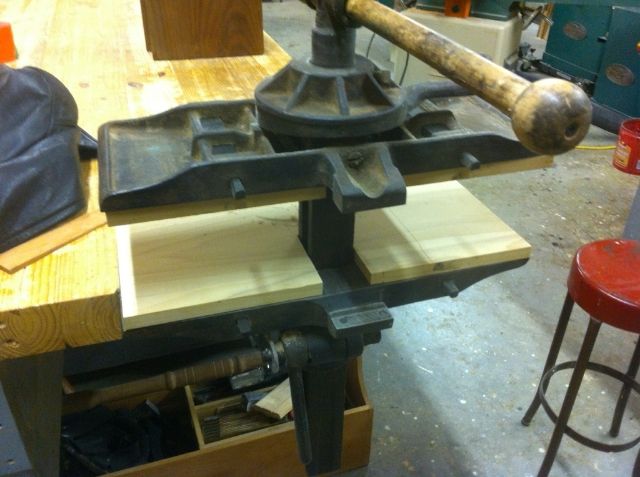 Alright! So here's main takeaway from last night. The walnut slab gave me three beautiful boards over 4 feet long and eight inches wide, about 13/16ths thick. Another piece of the same thickness, but narrower across the width. Also some nice thin cut-offs from the re-sawing that will make some very durable veneer, just under 1/8th" thick. I'm so glad this walnut will be given another lease on life. The color and figure is amazing, but the camera on my phone doesn't remotely do it justice.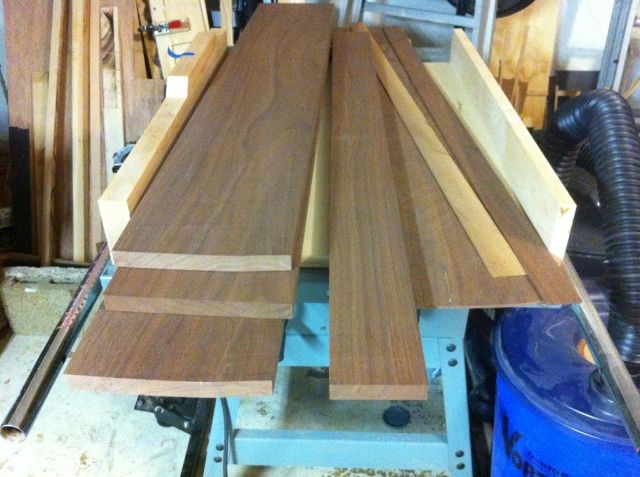 I also quartered up two long square sections that will make nice legs for something soon.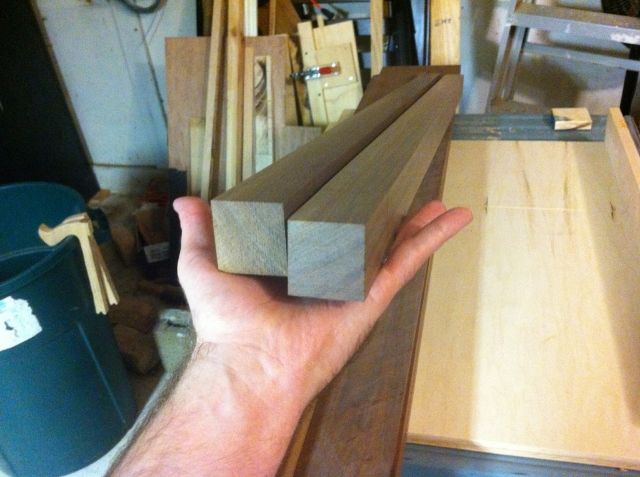 Add in some respectably thick and short sections of mahogany, and half a dozen long bricks of maple. I say bricks, because these suckers are heavy. Very stout. I see a Moxon vise and a new mallet in my near future. One piece of maple had some nice figure so we cut it into thin strips that will make a nice decorative touch on something.
I also had a couple of lucky finds with some cherry boards. The pair on the left was originally a long board with a lot of twist. It was cut in half lengthwise to minimize the cupping as it ran over the jointer. The pair on the right were re-sawn from a single board that was thick enough to provide two nice panels about 1/2 thick.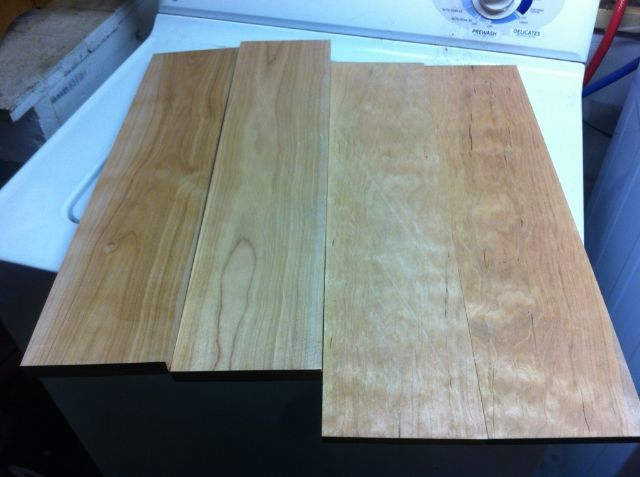 I knew there was some really interesting curl and quilting in this board, but until it had been split I had no idea there were these cool mineral streaks inside, too!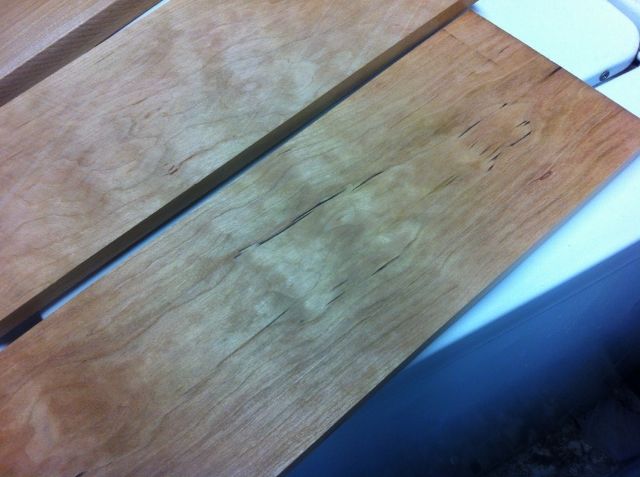 All told, here is the entire haul atop my cross cut sled.
Apart from the walnut, all the other boards were found by carefully rummaging through the scrap pile at my local Rockler store. Mostly cutoffs of oak and poplar in there, but every now and then you find something really cool.
Big thanks again to JB For letting me use his shop! It's a damn fine way to spend a Tuesday evening. Oh, the ideas that are bouncing around my head right now…
-- Brian Timmons - http://www.BigTWoodworks.com
---