This may very well end up as my new yardstick for time and effort invested versus quality of results. And it's not a terribly good yardstick, either. As the title states, it's my first attempt at hand cut dovetails. I did it with scrap pieces of red oak, over the course of two embarrassing hours.
The gaps are pretty pronounced, despite having to hammer the hell out of both pieces to fit them together.
Things I learned during this quintessential rite of passage for woodworkers:
- How to get my chisels workably sharp in a hurry.
- I need a better saw than the Big Orange Box sells.
- I dislike red oak. It's hard, so it's tough to pare away, and the huge open grains ensure that it'll splinter when you don't want it to.
- Exacto knifes are rubbish when marking out lines for cutting joinery. I need to invest in a single bevel marking knife.
- Chiseling away waste wood from between pins and tails creates a very satisfying feeling for some reason.
- I need an actual marking gauge.
I'm glad my first dovetails are behind me now. I've seen better first dovetails and much, much worse. Ultimately, if these are the worst dovetails I ever do then I can live with that. It'll be a while before I incorporate them into a project I post here, though.
UPDATE: Added more pictures.
I didn't like how the pins and tails were jutting out in the final fit, so I smoothed it down with my block plane. I put a chamfer on the inside of the tails to help with the initial fit, but as you see here with the corner gaps, I accidentally extended it all the way to the visible ends. Oops.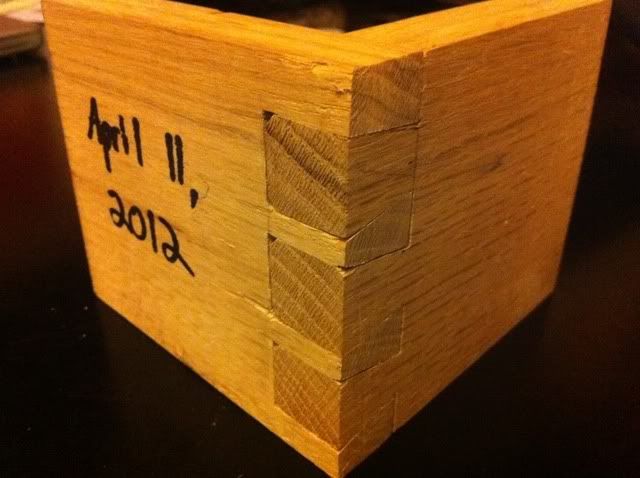 This is why you use a marking gauge, boys and girls. Mind the gap.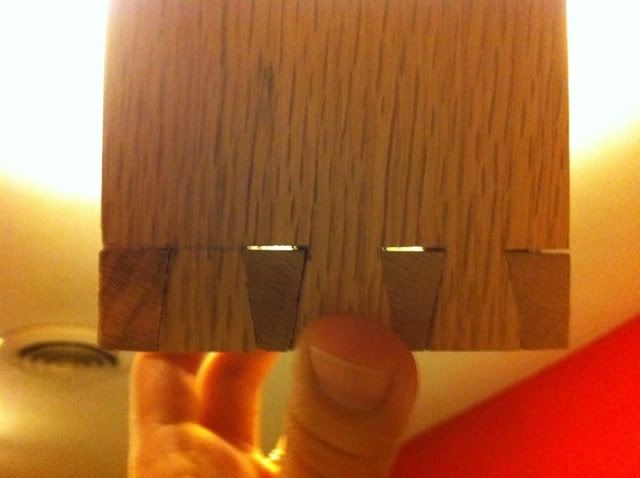 -- Brian Timmons - http://www.BigTWoodworks.com
---