I want to take a minute (or 2or 200) to tell you about an awesome place I found in southern Ca, Santa Ana to be exact. The name of it is Austin Hardwoods & Hardware(714) 953-4000 610 N Santiago St, Santa Ana, CA 92701.
The cross streets: Between E 6th St and E Santa Ana Blvd, This is the most outrageous place to locate the elite of hardwoods. Less than 20 miles from my fathers house in so. Ca. It is an absolute must stop for me when I go down to visit my father. They have wood there that you just can't believe. Huge slabs that must weigh 100's of lbs. for sale. There is veneer and I do mean veneer. Stuff I have never seen nor heard of before .The kind people that work there allowed me to take pictures inside their store. I told them that I had a personal woodworking blog at blogger and would they care if I placed the pictures I would be taking there.
They said not a problem!
The following pictures are from the inside front wall of this plain HUGE warehouse of wood. I took these pictures as I want to try to scroll this wall art. (in a much smaller format ) LOL!
and yes I asked permission!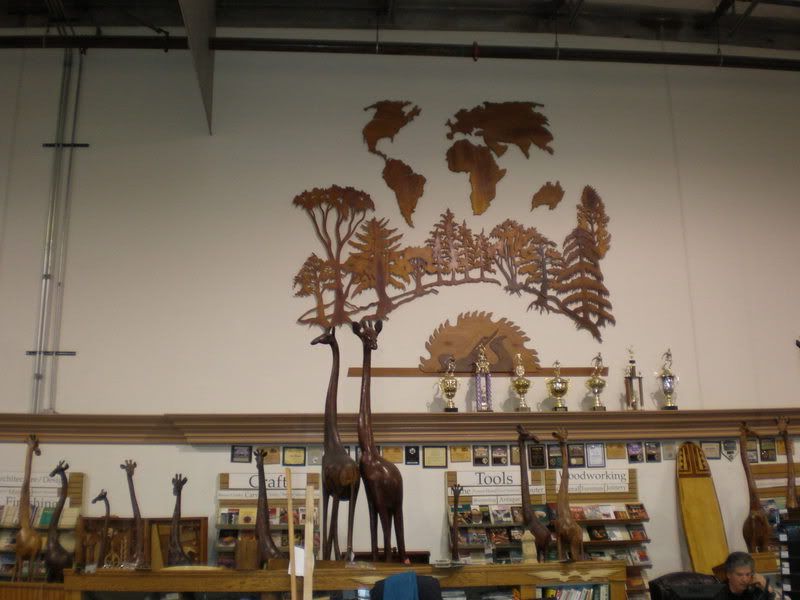 I want to share with you these giraffes that they have there for sale. They are carved by the Ndeble Indian tribe in Africa where these trees are located(pictured below.) They are carved out of the entire tree. Pterocarpus angolensis is the true name of this wood. However it is known as MUNINGA.
Other common names are Mutete, Mukwa,Mtumbati, Kiatt,and Kajat.below are the particulars of this beautiful wood.
SPECIFIC GRAVITY: 0.59DENSITY: 41 pcf TANGENTIAL MOVEMENT: 1.50%RADIAL MOVEMENT: 1%VOLUMETRIC SHRINKAGE:DURABILITY: Excellent
( And of course I know what ALL THAT means!!!)
SOURCE: Southern Africa
DESCRIPTION: Muninga heartwood varies in color of light to deep brown shades, to shades of dark red with streaks which dissipate with exposure. Pale yellow to gray sapwood. Medium to coarse texture. Straight to interlocked grain. Not lustrous. Dry sawdust can irritate sinuses and lungs. Very good workability with machine and hand tools. Blunting of cutting edges is moderate. Cleanly sliced, and good for gluing. Excellent for carving and turnery. Used for flooring, building boats, fine joinery, furniture, and decorative veneer.
Below is a couple pictures of this beautiful wood.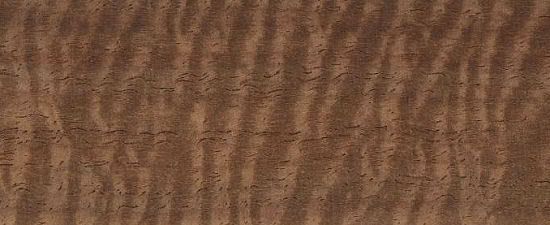 Hopefully you may get an idea about how huge this place really is.They also sell blades of all kinds, and an assortment of other tools, but quite honestly I cannot say much about what else. The reason for that is I really have never looked. I can go just about anywhere and look for tools, but the chance to see aisles and aisles of the most exotic wood comes not often enough! Every time I have been there, I have stayed for hours. For me the ideas and thoughts of what I can do with some of this wood is almost overwhelming. I can never say enough good about this place. If you are ever in the vicinity you simply must check it out. I do believe it too will go on your list of" must stop there" when you are in the area.
I also cannot say enough about their employees!!!
Just one quick story. My husband and I insisted that my 87 (going on 25) year old father come with us to check this place out. An employee came up to us and asked if we wanted any help.
My father replied "ask her (pointing at me) she's the woodworker , not me."
My father then went on to say
"All I ever knew how to do was whittle and spit"
To this, the employee replied
"Well then sir, may I show you our knives?"
I believe that sums this place up.
-- Allison, Northeastern Ca. Remember, Amateurs built the Ark. Professionals built the Titanic!
---