click the marker to see the address
It's cozy, but it's home.
Time, I think, for some updated shop pictures. I had never actually measured my space to see exactly what I had, so I got out the tape measure and… 190 square feet. Not a lot, but enough for my needs. It would of course be nice to have enough room for a real workbench, to not have to move the planer every time I want to use it and to have a dedicated finishing area but really, I can't complain. At least I can lock the doors and keep my wife and her scrapbooking stuff out. ;-)
Before moving here I had never heard of a "tandem" two-car garage but they are apparently common in older houses in my part of Cincinnati. Since parking end-to-end was a logistical nightmare where someone was always having to back their car out to let the other person exit we used the back half for storage of lawn equipment, snowblower, etc. I put a shed in the back yard and went to work setting up shop. Space is really tight, but I got everything in. Everything, with the exception of the jointer, is on wheels.
Looking into the garage, the wall and doors in the back separate the shop from the rest.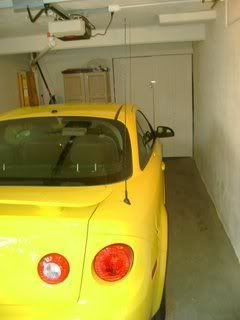 New and improved router table. Previously I had the table mounted on an old bathroom cabinet which made it way too low. I'd have to kneel to change bit height, which isn't that unusual, but also sometimes to use the table which is hard on my old knees and probably not all that safe. Also added a router lift so unless I need to change the speed on the router I shouldn't need to squat down at all.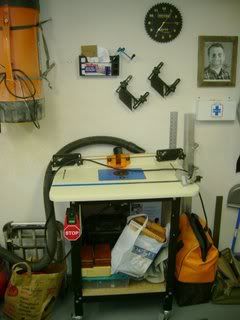 I used to have a long workbench with pegboard storage for hand tools and under-bench storage for powered hand tools, biscuit joiner, sanders, etc. When I found a deal too good to pass up on an 18" bandsaw, though, something had to go in the shop in order to fit in the Jet. So here is my solution for hand tool storage. The upper cabinet is glue/finishing supplies, lower cabinet on the outside is mainly measuring/marking tools, safety gear and hammers, mallets, etc.
Inside the cabinet is my dovetail jig, spindle sander and "other." Less 'finger friendly' hand tools are on the inside of the door, which latches closed, to keep them away from my 3 1/2 year old who likes to come into the shop and help me sand.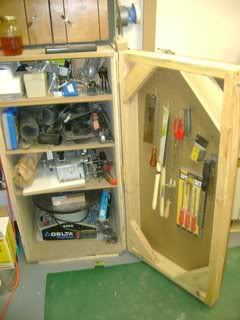 Looking towards the back wall – lumber storage, table saw, outfeed/assembly table/"bench", and mortiser just peeking out.
Sharpening station
The new bandsaw (templates on the table are for a set of dining chairs I'm working on), planer, dust collector and drill press.
Growing collection of clamps
Looking out from the back wall of the shop

I'm looking forward to some day having a larger dedicated space, but for now I'm quite happy in my little fortress of wooditude.
-- We may never know who let the dogs out, but I'd bet anything PETA was involved.
---