My son Sam, now 2 ½, is a certified car nut. He has about 200 of them, which he can identify by model and color, and those are just the Hotwheels/Matchbox sized cars. He and I spend hours on the living room rug playing with cars, driving them to various locations on the rug which he has identified as the grocery store, the car wash, the "whippy dip" (does anyone outside of Cincinnati call a dairy bar/soft-serve ice cream place a "whippy dip"?) etc.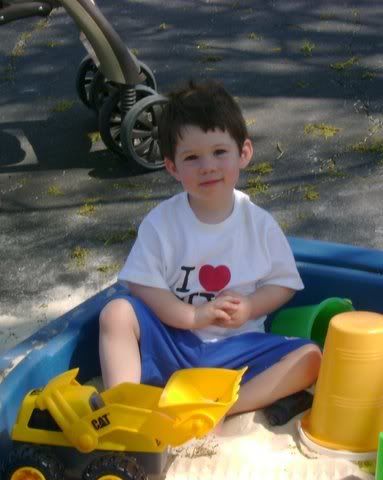 Anyhow, we were sitting at dinner, my wife and Sam and I, talking about getting him a "big boy" bed as he is getting way too long for the toddler bed when Sam pipes up, "Car bed! I wanna sleep in a car bed." Now as far as I know, he's never seen a race car bed and was just seizing the opportunity to inject the word "car" into the conversation, but he sounded pretty adamant. I did some looking online and wow, are those things expensive. In the process of looking, however, I found plans for a sports car bed and got to work.
The bed is made mostly from plywood. Since we're talking about really large pieces I wouldn't have been able to make much use of a bandsaw even if I had one, so with jigsaw in hand, I started cutting: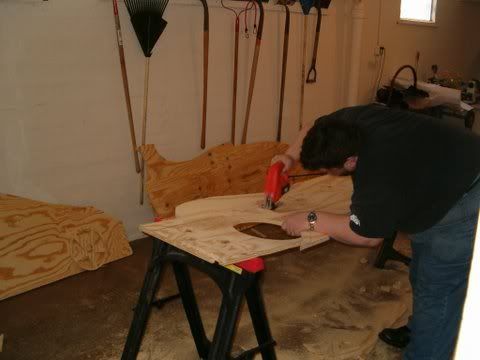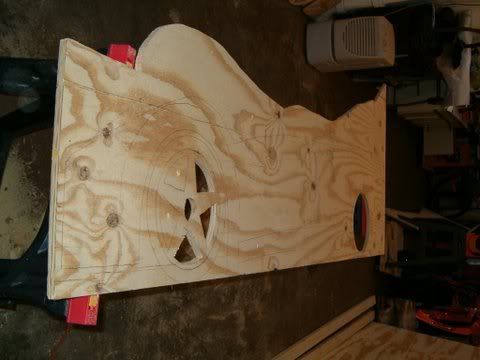 Sam checks in on the progress of his new bed:
The sides are built-up to make it 3-D. The front bumper opens up to reveal a small toy box and the spoiler/headboard is a bookshelf.
This weekend I started priming: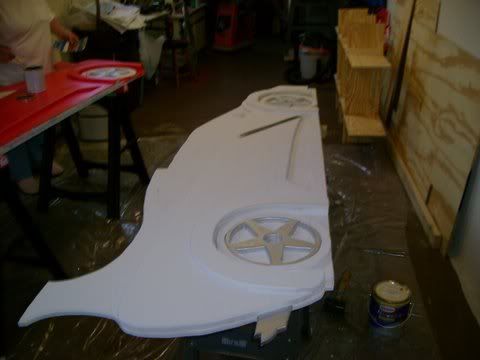 Then painting: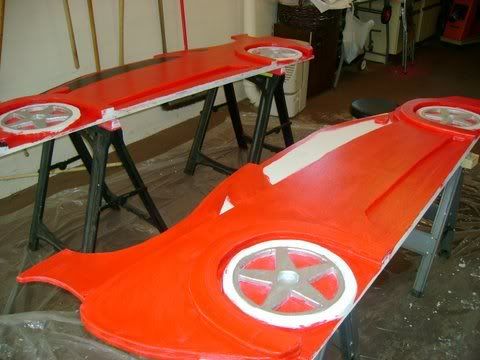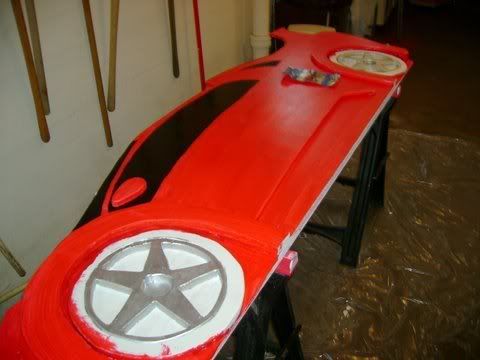 Nicole gets busy with the paintbrush: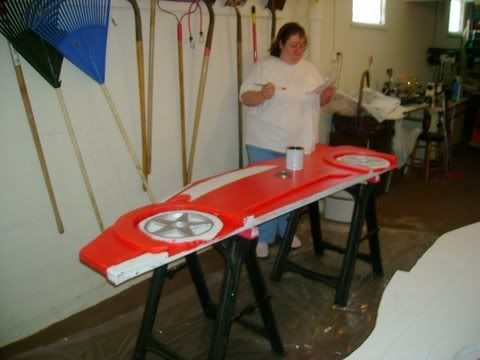 This week I'm hoping to get the final coats of paint on it and, while he's out of town this coming weekend with his mom for a birthday party, the plan is to get it up to Sam's bedroom, get it assembled and surprise him with it when he comes home on Sunday.
-- We may never know who let the dogs out, but I'd bet anything PETA was involved.
---