I am working on a writing desk. After seeing John Frys cool ebonized and glided chair
( http://lumberjocks.com/projects/7749 )
I decided to add some gilding to project using Sepp Mica Powders.
I started by gilding these applied carving pieces. I mixed the powder with Seal Coat and brushed it on.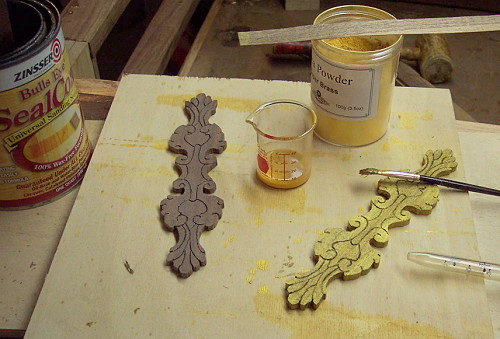 I applied two coats letting the shellac base dry in between coats.
I was somewhat concerned that subsequent coats would dissolve the previous layer but I was please to find that these powers fill in quite readily. It is a matter of mixing the desired concentration. I have gone for a rather heavy mixture….
After playing around with the carvings I moved onto the legs. I taped off the areas that border the designated gilding segments-
I removed the tape and began applying a stain to the remaining areas. I am giving this a wash of a red mahogany stain.
I applied the stain with a small artists brush-being very careful to let the stain ease up to the gilded borders…I was happy to find out though that even if a good deal of stain washed over the gilded segments-the stain did not penetrate those areas. A paper towel or rag removed any stain on the gilded areas.
Here are the legs set into the case and the desk.
The glided drawer casing is glued in place. The other gilded carvings are taped on for now.
It's a challenge to gild enough but not too much in a busy piece like this. The top will have profile that closely follows the perimeter of the casework-in other words I plan on just enough overhang or lip to allow for wood movement. The top will have a a fairly "busy" profile routed along it's edge and that edge will receive a gilding as well.
Thanks for looking…
Alan
---