Well I have a fully functioning Layout Compass now :D. All that is left is to do the shaping of the legs and some purtification of them. I am still working out the details of the purtification but in the end they should be pretty purty lol.
All the pieces laid out with epoxy curing on the pins..
So today was filled with frustration and epoxy and a lot of brass dust. It started with cleaning up the mortise that the arc goes through and embedding the head of a copper rivet into the back wall to keep the arc centered and give it some backing when the set screw is tightened. That was an exercise in patience trying to position it and get it epoxied into place without disturbing it's careful placement. That mortise is barely wider then the brass is thick and was a PITA to cut. I was a little bit worried that it just wasn't going to happen but a lot of drilling and scraping with a box cutter I was finally able to get a small scroll blade with one end cut off and the other end secured in a vise through it to finish it up. Then I squeezed a mini flat file through it and used it like a saw to get it an even width. After that I drilled a 1/4" hole 1/3rd of the way through the other side to allow the threaded rod on the arc to sink into that leg when closed.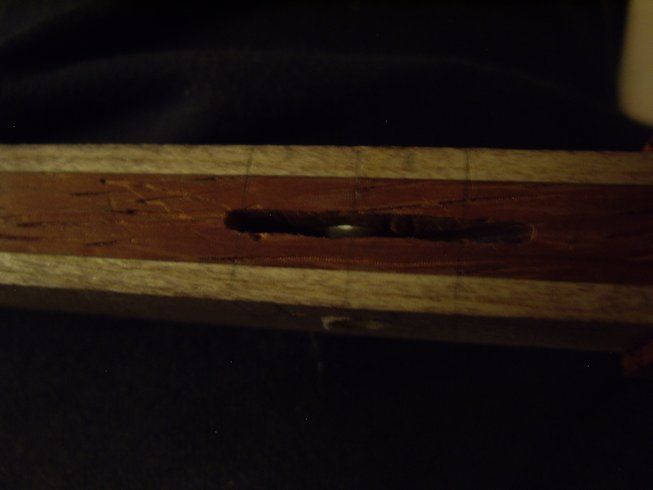 Then drilled the hole for the threaded end of the arc in the other leg and counter sunk that on the inside for the spring to rest in.
OH and THE SPRING! This morning after I finished polishing up the brass arc and getting the mortise cut I was working out a spring of some sort to push on the arc for fine adjustment. I was testing out different metals I had laying around and was ready to settle on a strip of bent brass. I was holding it in place and squeezing the legs closed to test it's springyness when I heard a POP! Oh man I was afraid to look. I just knew that I had popped a hinge which would have meant starting over from scratch. After gathering up the courage to have a look I was relieved to see that it was not the hinge that popped but the glue joint holding the hinge into the hub I have the legs attached to.. PHEW! When I had glued those up I used the red original Titebond because of its fast tack time (no real way to clamp those) and it doesn't have the strength of Titebond III. So this time I re-glued it with III and I am now more confident than ever of the durability of the actual hinge portion of these.
After that I scrapped the metal strip idea and started scrounging through boxes of bits and parts for an actual spring that would work. I needed to be able to get 1/4" threaded rod through the middle of it easily in order fo rit to work and it needed just enough give to push but not so much that it will break the hinge joint again (lesson learned). I was about to give up when I found my stash of guitar pickup tension springs. They are tapered and the small end was just a bit too small to fit but a bit of finessing with a pair of needle nose pliers got them opened up enough to work.
Now all that was left was to make the pins and determine the angle for them to be installed in so that the tips would touch when fully closed. Some time spent with a tracing, a triangle and a protractor I had it all laid out and ready to be transferred to the legs for drilling. I did my best to get them exactly symmetrical and they are a smidge off from one another but they touch and that's what matters. I am probably the only one who would notice such a thing but I see the flaws in just about everything I make lol.
I cut two lengths of 1/4" brass rod and chucked them into my hand drill and then chucked a large sanding disk onto my drill press and when to town sharpening them to a point. It was trickier than I thought it would be getting the taper the same on both but again…. an exercise in patience…
I think I have rambled on enough for this update. All I have left to do is determine how I want the legs to look and get started making them look that way then apply a finish. However as they sit now they could very well function as intended with no further modifications so I am pretty stocked about that! If you have any ideas for the leg taper please share them. I'd like to do a bit more than just taper them.. hope that makes sense..
They have a final capacity of a little over 5". More than enough for dovetailing I think.
EDIT
After posting this I sat down and started working on the leg design. Here is what I came up with. Please let me know what you think..
-- Eric - "I'm getting proficient with these hand jobbers. - BigRedKnothead"
---