Well, I bit the bullet and finally installed Sketchup. I am very far from proficient at it but I was able to mock together a rough draft of what I have planned for the base of this bench.
Here is the deal. I am active duty military so I know I WILL be moving at some point. With that in mind I have to be mindful of what I build and the fact that I will need to load it into a truck at some point.
My second project for my shop was to be a tool cabinet for my various hand tools and such. Right now they are scattered all over and tucked away wherever I can find room. This bothers me to no end. I absolutely hate not having a home for each tool. Perhaps it is the number of years spent in aviation maintenance and having proper tool control drilled into me or my natural AR nature but I have to have a central container for all these tools soon.
Now the quandary is that I can have 1 very heavy item that takes up a set amount of space in a moving truck or multiple slightly less heavy items taking up a lot of space in a moving truck. I would like to try for option number 1 if I can.
I have read and re read CS's book on workbench design and I know his thoughts on under bench storage but I have seen examples that work (see Smitty's bench) and I like the idea of using the space under the bench for more than a junk/saw dust collector.
Here is my initial thoughts on how to accomplish this most effectively. Keep in mind this is my first Sketchup attempt. The measurements are arbitrary since I am just doing a rough draft and the joints are rudimentary at best but this is just to get a visual of what is inside my head and see how they fit together.
I battled with the straight leg or splayed leg debate for a bit and went with the splayed. One because of the added stability and two it provides more storage space and the 20 degree tilt of the back legs makes for the perfect hand plane storage rack. I would like to make that rack hinge up to allow more storage behind it on the backside of the cabinet but that may now work out. I'm going to try and see if I can find a way to make it work.
So anyhoo.. here is what I am talking about. Let me know what you think, even if I am completely off my rocker (which is entirely possible).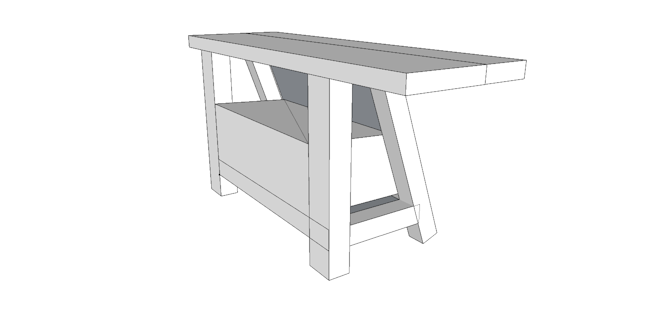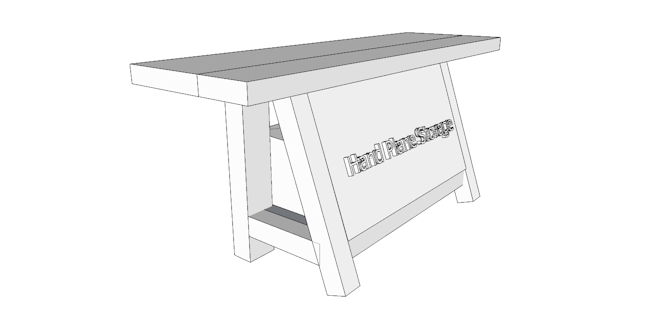 I look forward to your thoughts. You guys haven't steered me wrong yet!
-- Eric - "I'm getting proficient with these hand jobbers. - BigRedKnothead"
---