Sorry about the blog spam today but…..
It. Has. Started! FINALLY! I set up my saw horses and have jumped into planing the boards flat so I can get them glued up nice and tight. Broke out my $18 new model Stanley SB4, sharpened the blade for the first time and gave it a go. This is the first time I have used it since I bought it. I wasn;t sure what to expect as most the reviews for the newer cheap Stanley planes are less than steller but I gotta say.. this guy does the job!
I am about halfway through the 12 boards that will make up the top but I am having a blast and making lots of fluffy shavings.
The best part about all of this is that unlike when I use my power tools my wife could stand out there and we could have a conversation while I was working! I think my lean towards hand tools is the right direction for me.
Today's Money shots and a bonus short video of me working. I would love some critiques of my technique which evolved over the afternoon till I think I finally got it figured out. Also be nice…. I am just glad my bald head didn't glare out the camera!
Enjoy!
Carpet of shavings..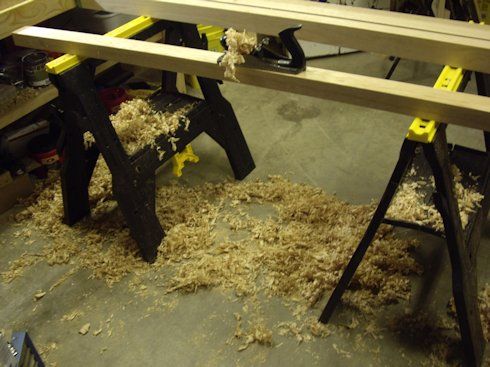 -- Eric - "I'm getting proficient with these hand jobbers. - BigRedKnothead"
---