After finishing up one of the hand cranks for the Moxon vise I realized that the poor excuse of a turning I did on my leg vise crank handle just wasn't going to cut it.
So after that revelation I scrounged up some scraps of Padauk and Oak and started piecing together a segmented stackup that would become my new crank handles for both the leg and wagon vises.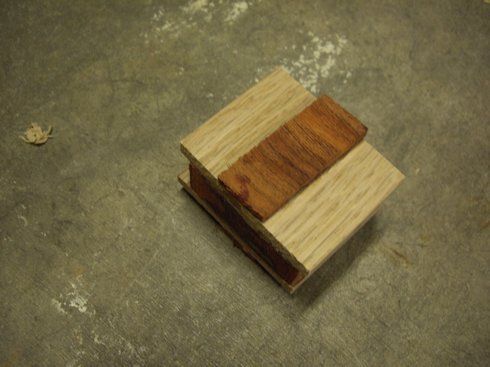 Once the glue was set on those I cut different sized plugs out with my hole saw set which works out nicely because it drills the pilot hole along with cutting the circle. This makes it easy to stack these up together.
Those 2 plus a section of a 1" oak dowel. I got excited to start shaping this and forgot to take any pics of the raw stackup but I did get some action shots and some after pics.
I sanded it with progressive grits from 80-1500 then a blue scothbrite pad. Those pics are after the initial coat of poly was applied. I have 2 on it now and waiting to add the third and final coat before waiting a day to do final wet saning and polishing. As usual updates to come.
Thanks for reading!
-- Eric - "I'm getting proficient with these hand jobbers. - BigRedKnothead"
---