When I last left you guys I had mentioned that I had "few" tools incoming from fleabay and elsewhere. Well they have been slowly trickling in all week and aside from a couple still outstanding I have the makings of what I am considering my student set of tools.
I won't bore you too much with the details and just get on with the pics and inventory listings..
First up are my hand planes so far. Most if not all of them require either just some sharpening or a complete restoration but they all have good bones and are complete. So like I have said before.. if you want to learn how something works, just fix a broken one..
Group shot..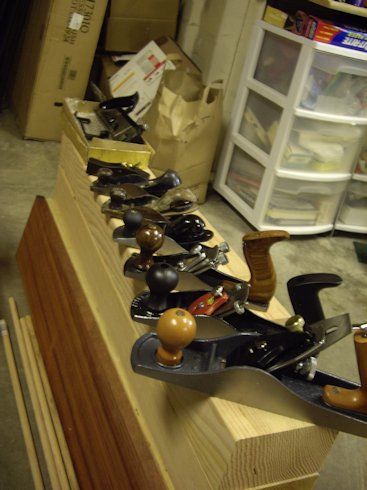 Some new additions from the ones previously posted in my blog..
The Stanley 9 1/2 block plane that I was going to try out from HD's website. Was $18 + shipping.. seems worth the gamble. Next to that is a HF 8 1/2" block plane that I plan to turn into a scrub plane (have seen a youtube vid on this and it seems to be a popular mod for this one).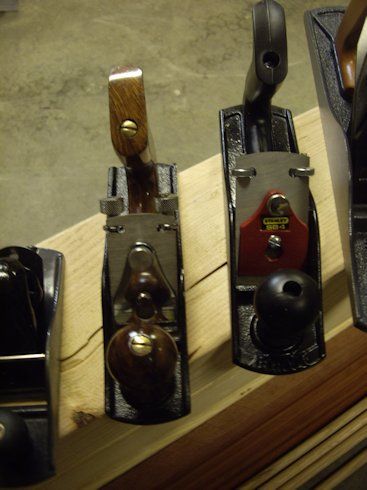 A couple flea market finds.. Both are Stanleys and both needs a lot of work but paid $15 for the pair..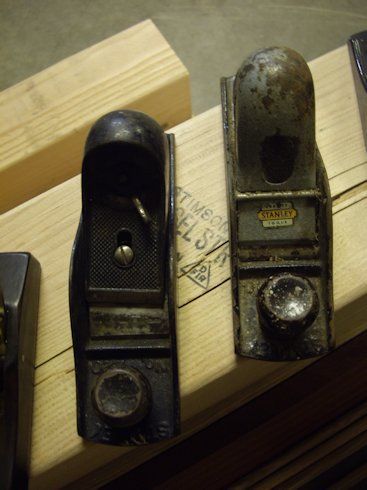 A Grizzly corner plane. This little guy is a lot of fun (and a horrible pic too) I was rounding the corners of everything in my scrap bin till I had to stop myself lol.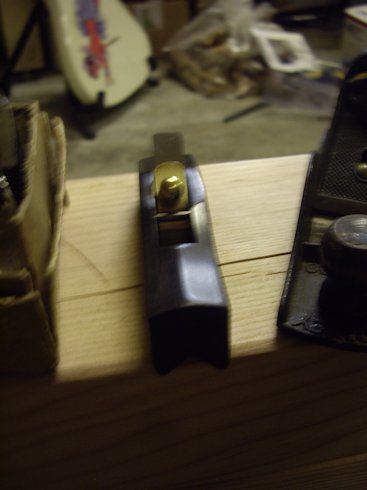 This one is my favorite find. Still in original box w/ all the pieces. If anyone can tell me how this thing is supposed to go together that would be great! $40 on flea bay (can't tell if I got a good deal or not but it's cheaper than a Veritas or LN lol )..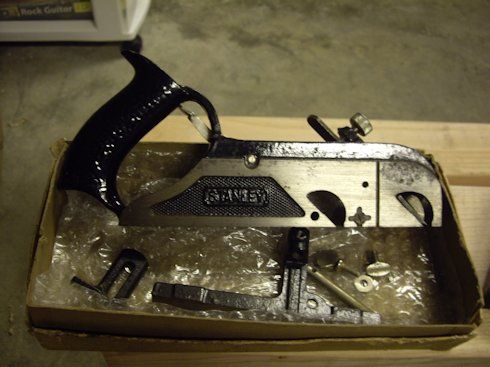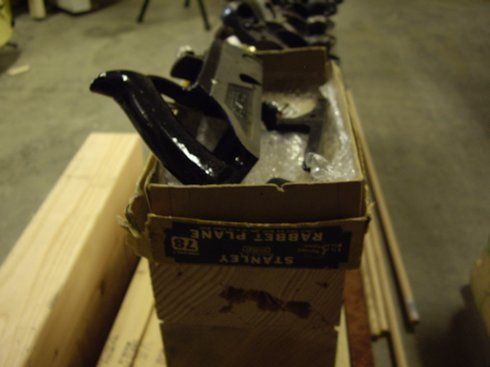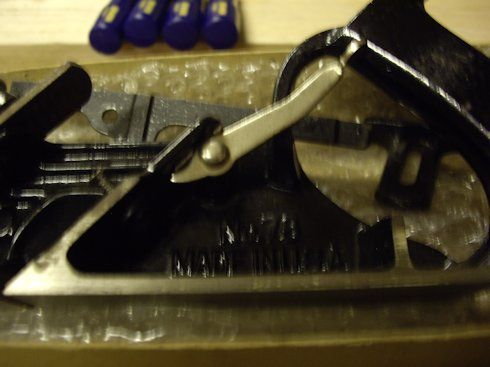 Next up are some chisels.. Just a mid-grade set of Irwin chisels. These should get me through for a bit and are a WAY better quality than my Wallyworld bargain bin set I was trying to use. They (the orange handled ones) will be my set I use to practice sharpening on.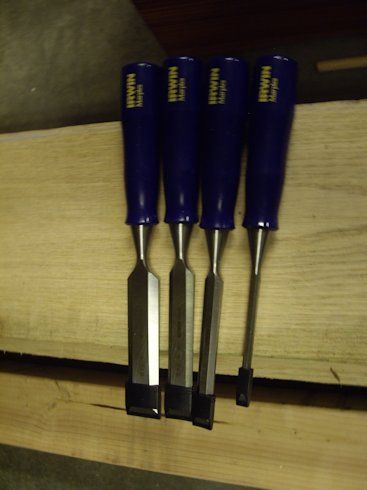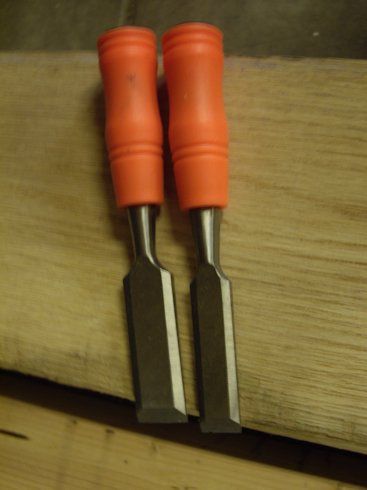 Next up are my hand saws. So far all it consists of are a few cross cut saws in different sizes and states of disrepair. All picked up on the cheap (under $5 each).. Except for the miter saw. That thing is WAYYYYY better than my Bucks Bro yellow plastic P.O.S.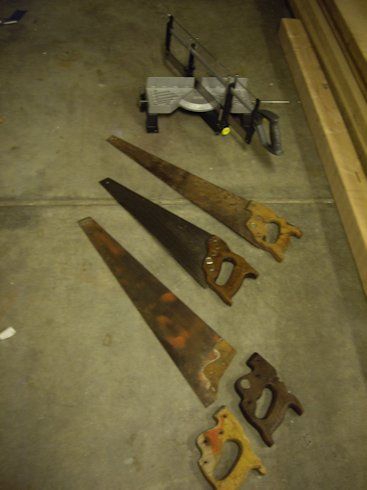 New handle for my mystery thrift store find. The shape of this Atkins handle is an EXACT match to the one that came with the saw. So at the very least I believe this thing came fromt he same factory.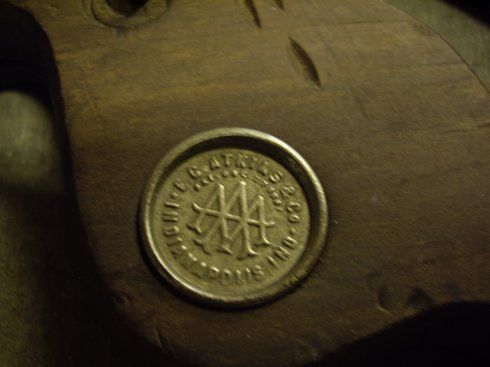 Another manufacture I am not familiar with. If any of you can shed some light on it that would be great! This one is very clean and ready to use out of the box.
The next guy I had to get due to the price alone.. $2 TWO DOLLARS! For a Disston USA Cross Cut saw. Just need to shim the handle slot a bit to snug it up.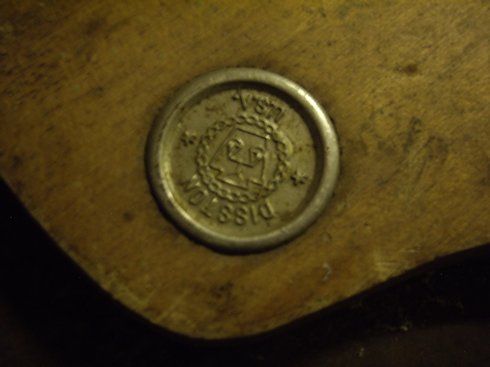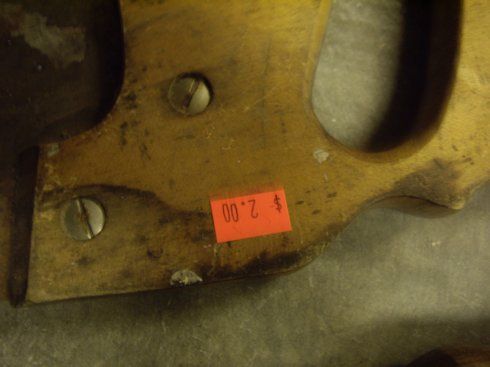 And finally a newer Stanley Miter station. Very smooth action and cust fast and clean.. I am impressed..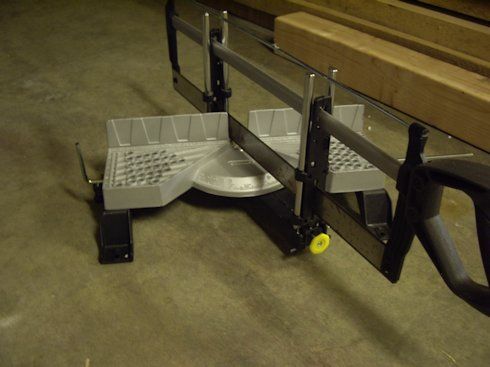 Last but not least is a Sharpening/Honing angle guide with one of my practice chisels in it.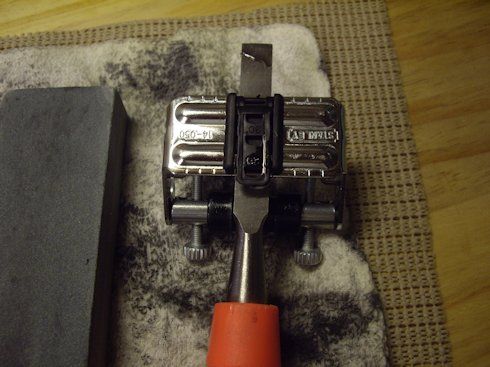 That is all for now.. I am still eagerly awaiting the arrival of this guy!
An E.C. Atkins Skew Back Rip Saw.. should be here in a day or two..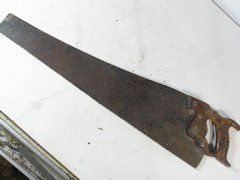 There we have it. Yes, I have gone off the deap end but if it's worth doing it is worth over doing right? Comments are always welcome!
-- Eric - "I'm getting proficient with these hand jobbers. - BigRedKnothead"
---