Ok, so after tossing around some overly complex ideas and trying to reinvent the wheel I have finally settled on building a Hybrid Roubo style workbench. The design is tested and it works very well for what it does so why mess with success.
I plan on 2 vices. One wagon end vise and a leg vise. I had to do a lot of reading on the leg vise vs. a side vise to see what all the rage was about. I had never heard of a leg vise until a month ago when I discovered this website lol. After reading the pros and cons it does seem that the leg vise is the way to go.
I have poured over hundreds of pictures, plans and videos of different versions of this bench and really like the way the Benchcrafted vises operate with a hand wheel rather than a lever. It looks (and from reviews) seems like it would be easier to adjust and just looks nice. Yes I tossed in the looks card. If I am going to build something that will be around for a long while I can at least spend time making sure it looks good as well as functions well. Just me though.
I, however, have no intention of paying $400 for a hand wheel a 13" section of rod and a flange. I went to my local Fastenal store after work today and picked up a 6' (yes I said 6 FEET!) peice of 1" #5 ACME threaded rod and 2 nuts to match. They only sell it in 6' lengths or else I might have gone with less but this gives me plenty for 2 vises plus some and it cost less than $100 for the whole kit and caboodle.
This would be one HUGE vise if I used the whole piece!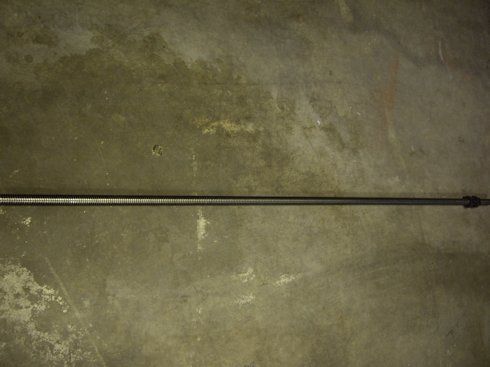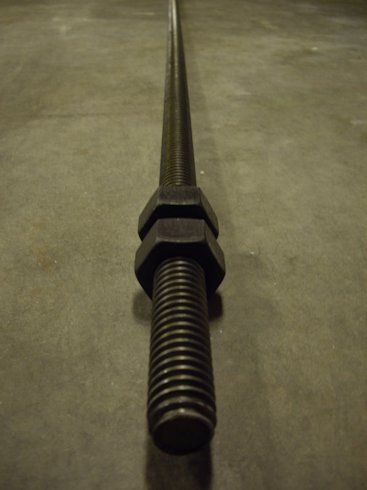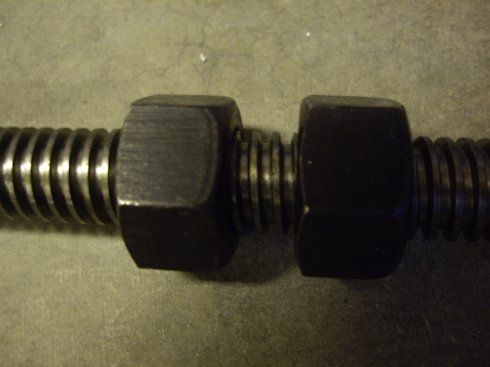 Add to that I also found a couple hand wheels online at Reid Industrial Supply. I ordered one 8" cast iron hand wheel and 1 5" wheel. The larger of the 2 is for the leg and the smaller one is the end vise.
The 8" wheel was around $23 and the 5" was only $17 so total so far for the leg vise and end vise hardware I am out $130. I might sell off some of the threaded rod that I don't use to recoup some costs or might hang onto it for later use (which there is always a later use right?).
Here are the wheels.. http://www.reidsupply.com/sku/BSW-8/
It is un drilled and I need to add a handle but that should be a matter of doing some drilling into cast iron. That shouldn't be too hard (I know metal! Still learning wood!). And devise a method of coupling the rod to the crank. I'm heading out to look at plumbing fittings and such to see what I can come up with.
I'm still working out what kind of wood I plan to use and where to get it at so no saw dust just yet but hopefully sometime this weekend or next I can get started cutting wood.
As always suggestions are very welcome. Thanks for reading!
-- Eric - "I'm getting proficient with these hand jobbers. - BigRedKnothead"
---