I built a large hardware storage cabinet to house an assortment of fine thread bolts.
My friend builds custom cars in his shop.
In order to secure these expensive nuts, bolts and washers, he hired me to build a cabinet to lock them up when he isn't around.
The assortment came with a large blue rack with a lot of bins for all the different fasteners.
This rack is made in three parts that will slide right into my cabinet.
If you've followed my blog, I built the Table saw island for the same shop and friend.
I built this shelf out of lite Mdf and some birch plywood.
I also put some scraps of pine for the very bottom base, just in case the floor got wet.
I challenged myself with the paneled doors, I have never built cabinet doors this big or with multiple panels.
These doors are nothing special, but I enjoyed putting in a little more effort to get a nicer looking set of doors.
To best support these 74"x 19" doors I used three pair of concealed hinges.
You will notice I came up with a last minute idea to make a hidden compartment in the top of the cabinet.
I haven't figured out how to lock it yet.
The bottom of the compartment has birch ply too.
This monster cabinet measures 83" x40.5" and 14.5" deep.
I still need to pick up some 1/4" mdf for the back panel before it will be delivered.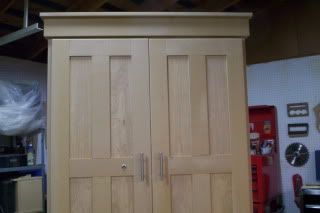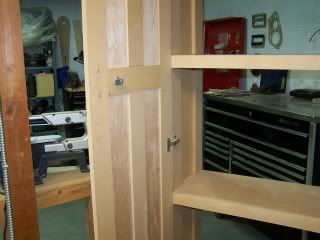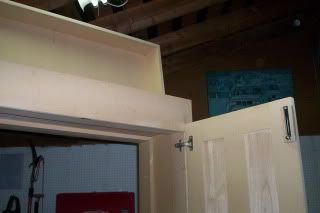 In order to lock the cabinet I installed a cam lock in the left door.
Now the one key unlocks all 12 locks in the Table saw island and this storage cabinet too.
In the last picture you can see one of the door bolts I used to secure the top and bottom of the right side cabinet door.
In my next post I will take some photos of this cabinet with the hardware racks in place after delivery.
Stay tuned.
-- Aaron - central California "If you haven't got the time to do it right, when will you find the time to do it over?"
---