While helping my mother research some local history, I ran across this picture that I wanted to share with you all. This logging truck was photographed about 1919 up in the Sierra Mountains. As soon as I saw this picture I had to have a copy of my own. I thought it would be fun to challenge you all to come up with your best caption for this photo.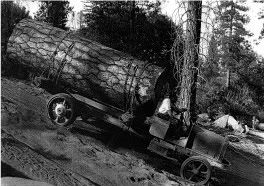 I'd love to see other historical wood related pictures like this. What have you got?
-- Aaron - central California "If you haven't got the time to do it right, when will you find the time to do it over?"
---