I built 6 parts trays for the table saw island. These 17"x17" trays are made of 1/2" MDF for the Box 1/4" MDF for the dividers. I spent most of two days cutting those dividers. There are 60 pieces that interlock. In order to jig saw the slots in these dividers I stuck two pieces together with two sided tape. Thanks to a really good Bosch jig saw blade, and my jig saw never quit.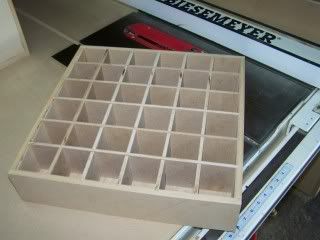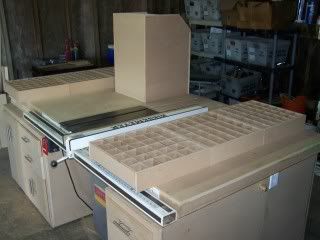 So now the plan for the back side of the island is going to have the parts trays in one bay, two bays with cordless tool storage and the compressor on the left side. Each bay has two large cabinet doors. The larger of the two storage units houses 8 Dewalt cordless tools 3 chargers and 4 extra batteries. Here are some pictures of the Dewalt cordless tool unit, it's sitting on the bench directly over the space it will soon be installed in.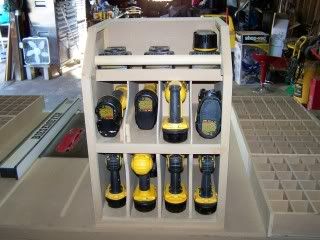 I didn't worry much until I loaded everything into it, its really heavy. I was planning to hang this unit from two pair of 18" 100 lb drawer slides (one set at the top and one towards the bottom, all on the sides). Has anyone used cheaper full extension sides with a large load this way? Should we spend three times more on heavy duty ones?


The other cordless tool unit is going to be smaller over the section of the island with dust collection running out. This smaller cabinet along with only about half as many tools, should way a lot less. Enough for today, more to come as I complete it, and thanks for all the positive comments. I've learned a lot while building this island and hope to soon build my own improved version.
-- Aaron - central California "If you haven't got the time to do it right, when will you find the time to do it over?"
---