I left off cutting the top in my last post.
I got the top to fit the saw and extended the miter slots with a router.
I than attached the top and routed the edges (with a pattern bit) to fit and glued and nailed it in place.
The next important step was to level the 8 feet on the cabinet and adjust the bolts on the base of the saw until the table saw and island are level and the saw is just a hair higher than the surface of the island. I used bench levelers from woodpeckers for the feet and also some 3/8-16 t nuts with a screw flange.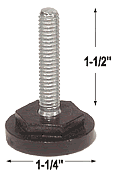 These levelers work great, I was even able to find a low profile 22mm wrench in the shop that I used to make the adjustments. The next couple of days were spent building the doors and drawers that you see. I came up with some dividers that can be removable by unscrewing the bottom panel of the draw, this makes the drawer divisions adjustable. I even built a small rack to hold two extra saw blades to the right of the saw. Other new features are, the small compressor which connects to a fitting for the end of the bench. Electrical outlets are built in on both ends of the Island, the saw and compressor are plugged in to a third internal plug.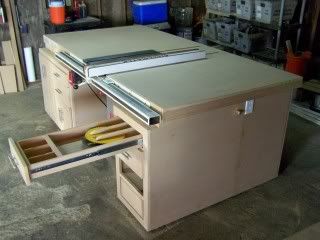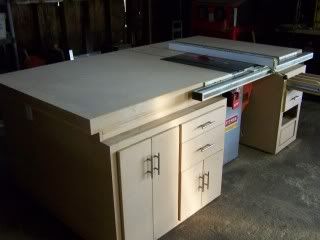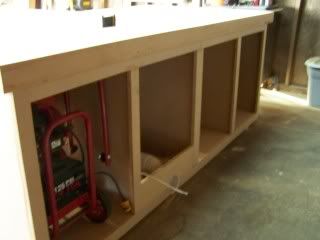 I still need to finish two drawers before concentrating on the back side of the island.
This side is going to get 4 or 5 small parts trays, 8 doors, adjustable shelves and my first sliding flip up out feed support (more on this feature later) for long rip cuts.
I'm enjoying this build, its been fun.
-- Aaron - central California "If you haven't got the time to do it right, when will you find the time to do it over?"
---