I have lived in my house almost 9 years, the previous owner built the house and the shop. I have always wanted to change the man door on my shop that leads to my house. The old owner put a hollow door and a dead bolt as the only lock system. He also clad the outside of the door in scraps of sheet metal. I recently bought a prehung 6 panel steel entry door to replace the cheaper ugly old one. Being that my friend and I often install stereo equipment in customers cars at my shop I needed a more secure door. Sometimes we have upwards of 8 thousand dollars worth of electronics in the shop and project vehicles. I picked up the door and knob from a door warehouse that's going under.
First, I decided that this door needs to be as secure as possible. I got a matching dead bolt to match the heavy duty knob. I had a locksmith key them to one key. Next I ordered a door reinforcement plate to fit the door. In order to make the jamb much stronger I decided to reinforce the jamb. I particularly concentrated, where the dead bolt could force the door jamb to fail and release the door. I was able to find expensive specialty hardware for this, but its not in the budget at this time. However I found the next best thing, its a double strike plate with a lot of attachment screw holes. After the position of the new plate was determined, I figured out a way to use the offset base on my colt trim router to mortise out for the strike plate. I have never used this ingenious base before and was so impressed with the way it worked I decided to share it here. Nothing too impressive, just some free hand routing to hog out most of the recessed area before chiseling out the rest. Here's the pictures of the fitting of this strike plate.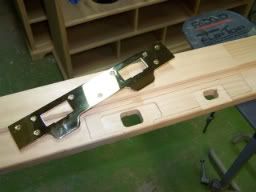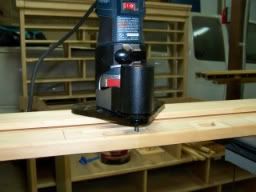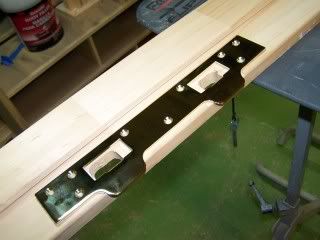 I wrote this to show how my router base was used to help make an awkward cut. The use of my off set base kept the weight of the router on the high part of the door jamb. This operation made it very easy to see where your cutting. The next part should include installing the door frame in the wall.
-- Aaron - central California "If you haven't got the time to do it right, when will you find the time to do it over?"
---